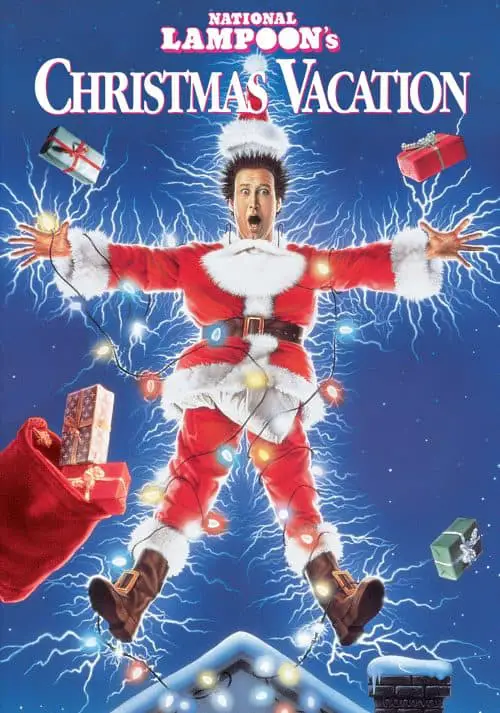 There are a lot of Christmas movies that are staples during the holiday season, Miracle on 34th street, It's A Wonderful Life, Elf, White Christmas etc, but does one move stand about them all?

National Lampoon's Christmas Vacation came out in 1989 and was almost instantly labeled a Christmas classic. It was directed by John Huges and stars Chevy Chase in the story of the Griswold family vacation. Over the years its popularity has continued to grow and grow.
This is one of those movies that for me is at the very top of the list for a must-watch every year during the holidays. I think there's something special in general about movies you wait all year to watch and their impact grows on you more and more. You can burn out a movie pretty quickly if you watch it every other weekend but movies like Christmas Vacation hold up and seem to improve because there is more anticipation to them.

Here we're going to look at the making of this movie, some behind the scenes stuff and the impact it has had on us all.

The Basic Plot Of National Lampoon's Christmas Vacation
Just in case you haven't watched it you could start off by watching European Vacation to get a feel for the Griswold family. But don't expect any continuity as there are different actors and circumstances which is the case for Christmas Vacation. It exists as kind of stand-alone movie even though there are follow up movies like National Lampoon's Vegas Vacation and believe it or not a sequel to Christmas Vacation.

I'll get to that later

Christmas Vacation focuses on Clark W. Griswold jr (Chevy Chase) and his quest to have the perfect family vacation. He has a long-suffering wife named Ellen (Beverly D'Angelo) and two kids; Rusty (Roseanne and Big Bang star Johnny Gelecki) and daughter Audrey (Juliette Lewis).

The movie starts with Clark looking for the perfect Christmas tree which involves them almost getting destroyed by multiple trucks on the road. They find the perfect tree which is about forty feet too big and then realizes they forgot a saw to cut it down.

Clark has a plan to put in a swimming pool for his family but hasn't got his bonus check yet to cover it all but in the meantime is focused on decorating his house. This is a standout and iconic part of the movie involving a house with enough Christmas lights on it to take down the power grid of his part of Chicago. Clark is also dealing with his douchebag neighbors Todd and Margot played by – a just cast in Seinfeld – Julia Louis Dreyfus.

The epicenter of the movie then shows up in the form of cousin Eddie (Randy Quaid) who has shown up out of the blue in a beat to hell Winnebago. He has brought his kids, wife, and dog, "Snots" with him. Also Joining in are senile Aunt Bethany and Uncle Lewis. While the Christmas dinner is a disaster with an overcooked turkey and burned down tree Clark also finds out he's not getting his bonus.

Eddie takes it upon himself to kidnap Clark's boss Mr. Shirley (played by Billy Murray's brother, Brian) A S.W.A.T team descends upon the house to rescue Mr. Shirly who has held back bonuses on the company and has now relented giving Clark a bigger bonus than before.

Everyone goes outside because the kids think they see Santa which results in a gas explosion from uncle Lewis's tossed match which has ignited the sewer where Eddie has dumped his chemical toilet.

Production On Christmas Vacation
Christmas Vacation was directed by John Huges and was actually based on a short story that Hughes had written called "Chrismas '59". He wrote it in 1980 and it was published in National Lampoon magazine.

In case you're wondering why these movies are called National Lampoon it's due to a magazine of the same name. It was published from 1970-1998 and had a huge effect on American comedy. The magazine also put out films, T.V and live theatre. Some notable entertainers have been involved with the stage and radio shows including:

Chevy Chase himself
Gilda Radner
John Belushi
Bill Murray
Brother Brian-Doyle Murray
Harold Ramis
This was all pre-Saturday Night Live and may have set the stage for this impactful American institution. It's interesting how Chevy Chase and Brian-Doyle Murray would come full circle back to a National Lampoon movie.

John Hughes was being begged by the studio to put out another movie and he only agreed because he had this good story called "Christmas '59" that he could base it on.

The movie was originally supposed to be directed by Christopher Columbus (the director not the navigator) but he had too many run-ins with Chevy Chase forcing him to quit. The stories of Chevy Chase being notoriously hard to work with are pretty legendary and Columbus just couldn't' handle it.
Columbus told the story to Alec Baldwin on the "Here's The Thing Podcast":
"I started to that movie, I shot second unit and I had such a disastrous relationship with the star…it was so disastrous, and so humiliating for me, just based on three meetings, that I said 'John, I can't do this, I cannot make this movie.'"
Even the first encounter with Chase and Columbus didn't go well…
"When I first walked in he (Chevy Chase) thought I was an assistant, so I can't really work this way, so I quit".
The good thing in all this was that Hughes really liked Columbus and even though he quit he didn't hold it against him. He thought that Columbus would be the perfect fit for another Christmas based movie he wanted to put out:

Home Alone

Columbus was also responsible for bringing us – what I believe is ACTUALLY a Christmas movie – Gremlins and then went on to give the world the first two Harry Potter Movies, Mrs, Doubtfire, and The Goonies.

The movie first started shooting on March 27, 1989, in Summit County, Colorado. They used a few other locations and then moved the whole thing to the Warner Bros ranch facilities in Burbank, California. So everything you've seen that includes the Griswold's house, and the street, were all actually done in a studio. And if that house looks familiar it's because it was the same one used to film Bewitched.

And Todd and Margot's house? You might recognize it as Danny Glover's house in Lethal Weapon…

The Release Of Christmas Vacation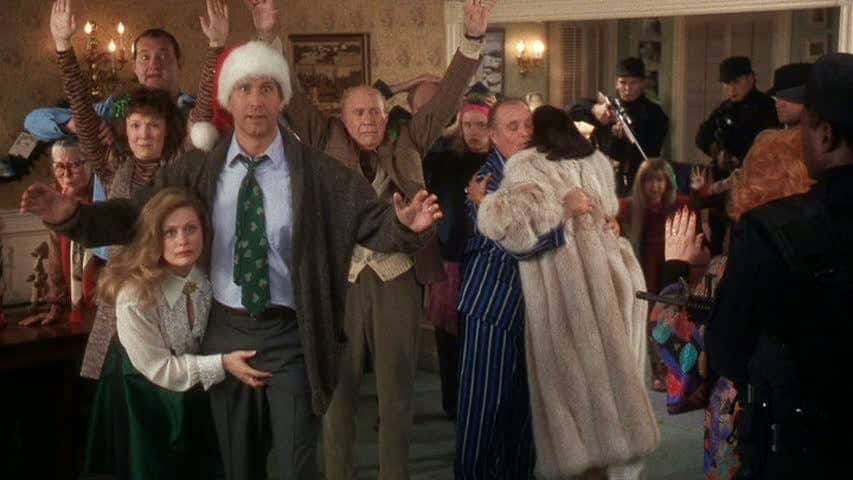 So this movie came out at an interesting time. It came out on November 30th, 1989 which was the same weekend as one of my other favorites of all time; Back To The Future Part II. I saw Back To The Future in theaters but don't remember it being that close to Christmas. This late release was because they had shot BTTF 2, and 3 at the same time so they could be released within a short time frame. They wanted BTTF 3 to be out going into the summer blockbuster season and it came out on May 25th, 1990.

I remember the commercials for Christmas Vacation but obviously, my interest was focused on the sequel to arguably the greatest movie ever made. I only originally saw Christmas Vacation on video but it still opened at #2 on the weekend behind Back to the Future which isn't too shabby.

It made nearly $12 million dollars that weekend which converted for today would be around $24 million dollars. Not great but ok. Overall it went on to make around $71 million which when we convert it would be around $142 million which is actually pretty good. Christmas Vacation actually topped the box office in its third week and there are a few reasons why this probably happened:

Everyone obviously wanted to see Back to the Future Part II so that took up a majority of the ticket sales. I don't know what your town was like by my city had fewer movie theaters and screens showing things in them days. (BTTF II opened at nearly $28 million dollars that weekend).
By that third week, it was only a week out until Christmas and those going to the movies were obviously looking to see something Christmasy and that was a year where Christmas movies were not a priority for some reason. The only other Christmas movie that came out that year was "Prancer". It was thought that no one wanted to go up against BTTF II the same way studios tend to avoid Marvel and Star Wars movies today. Also, Johnny Galecki starred in Prancer making him king of Christmas that year.
The Impact Of Christmas Vacation
The movie did O.K with critics, but like most staple go-to movie choices they are never the darling of the critics, aka Dumb & Dumber. Rotten Tomatoes has it at 64% and out of 36 different movie critics, it has an average rating of 6.2 out of 10.

I'm sure you have it WAY higher than that.

The thing with this movie is it has obviously grown into an absolute Christmas Classic. I honestly don't know anyone who doesn't watch it each year. It's filled with iconic moments and it's honestly not the holidays without it. I've noticed this continuing to grow every year with no sign of decline. It's been almost 30 years and it still holds up, the jokes are as funny as ever and it has not gotten old in the slightest. I wonder what the response will be to it in another 10-20 years from now.

Anytime you drive past a house with a huge Christmas light display there is no way you don't think of the Griswold house and an overly decorated home is synonymous with Christmas Vacation.

Behind the scenes stuff
Here's a whole bunch of random stuff regarding the movie and things that happened while filming:

Chevy Chase broke part of his hand in the scene when he punches the reindeer on his lawn display. He was supposed to punch everything else but couldn't so resorted to kicking and karate chopping the crap out it all.
The film actually had a huge budget, $27 million dollars


According to Randy Quaid, cousin Eddie is based on a real guy. The majority of the mannerisms are based on a guy he knew growing up in Texas.


Aunt Bethany may have given a clue to what she was like growing up. At the end of singing the national anthem at the end of the movie she says "play ball!". In the early days of baseball, they would use anthem singers that had a bit of burlesque background to them to serve as some pre-game eye candy.


Speaking of Aunt Bethany she was played by Mae Questel who was the voice of Betty Boop


When Bethany and Lewis enter the front door a small earthquake actually struck and if you look closely you can see the camera moving


Randy Quaid is third cousins with Gene Autry who's "Here Comes Santa Claus" is used at the end of the movie when the SWAT team break-in


The Christmas Vacation Sequel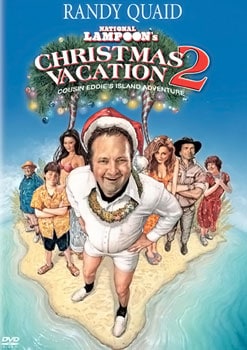 I never knew this was a thing until recently. I'm pretty sure most people haven't seen it either, but it's called Christmas Vacation 2: Cousin Eddie's Island Vacation.

It sounds awful just from the title. It came out in 2003 and was a made for T.V movie and stars Randy Quaid and Miriam Flyn reprising their roles of Eddie and Catherine.  The plot involves Eddie, who works at a nuclear facility alongside a monkey. One day the monkey outperforms Eddie on a variety of tests leading to Eddie getting fired. Eddie is worried about Christmas and his boss is worried that Eddie will sue so they offer to take his family on vacation to the South Pacific. They eventually get shipwrecked on an isolated island and Eddie gets the opportunity to prove he's a man by providing for his family and celebrate Christmas.

They eventually get rescued and it ends up that Eddie has to land the rescue plane and it leads to him getting his job back.

Let's just say this doesn't have as high a score on Rotten Tomatoes

Final Thoughts On Christmas Vacation
I'm pretty sure that since you've read all the way through this you love National Lampoons Christmas Vacation. I sure know that I do, and I'll just go out and say that to me it's the best Christmas movie ever. Hands down the best ever.

I will never not watch this movie during the Holidays and it remains just as funny year after year. It's still so funny that there are parts I still somehow haven't noticed. Example: In all the years of watching the scene where Eddie and Clark are in the supermarket check out how tight Eddie's pants are. Like revealingly tight. I laughed all night after finally noticing this.

That's the gift that keeps on giving the whole year.
And if you're looking for some epic Christmas Vacation based ornaments/decorations check out some amazing ones you can find on Amazon: