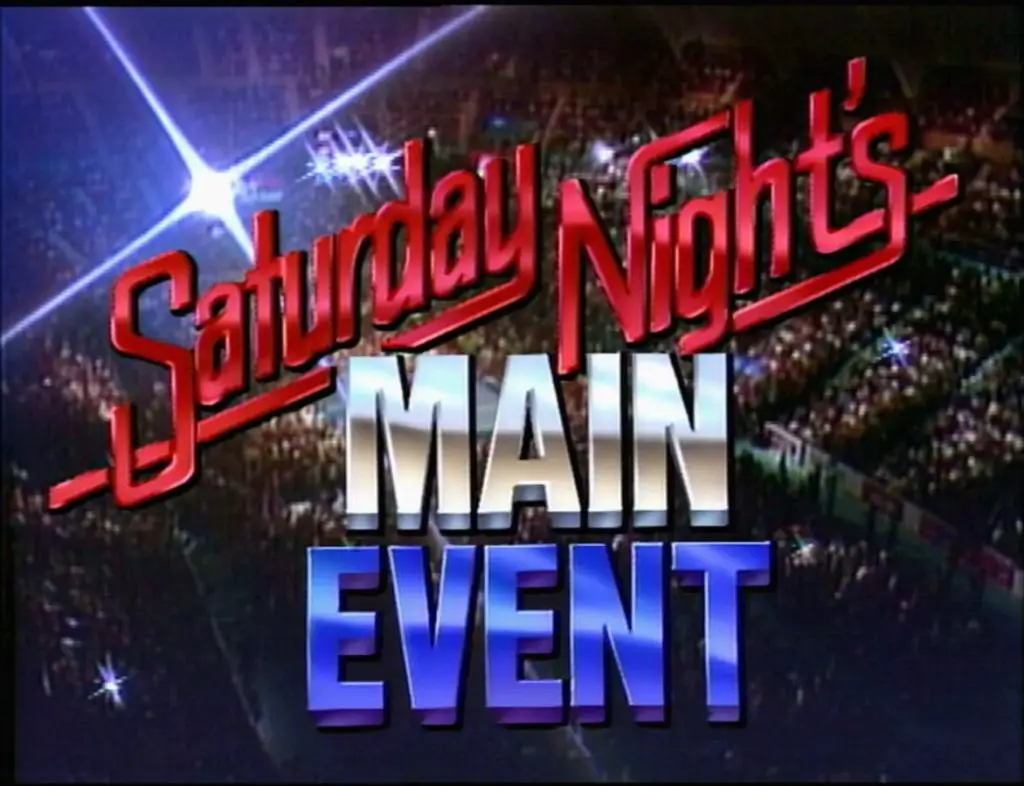 The 1980s were a real golden era for professional wrestling. The then WWF was hitting its trajectory and the advent of WrestleMania had pushed it to the forefront. The company would capitalize on its success by airing what was the equivalent to a pay-per-view several times a year or network television.
Saturday Night's Main Event was a pro wrestling program that ran from 1985 to 1992 on NBC. It would replace Saturday Night Live at various points throughout the year and offer pay-per-view level matches.
I can't even explain what a big deal Saturday Night's Main Event was to me. It's safe to say that wrestling was my life when I was a little kid, and getting the chance to see Saturday Night's Main event was like getting an extra Christmas.
There were a few times I was allowed to stay up late to watch it, but at least it would get taped so I could watch it the next day. This was required viewing for a wrestling crazed kid, as it was an important show to set up feuds and advanced storylines. You didn't want to go to school Monday without knowing what had gone down.
Back when the show first started, I was too young to stay up and watch. The other problem is we didn't have a VCR yet, so there was no way to record. (check out my article all about the amazing history of the VCR here.)
I remember my dad audio taping the show onto a cassette so I could listen to it the next day. This seems so archaic, but I still thought it was amazing. Home video was still relatively new, so the concept of being able to watch something via repeat as often as you wanted was still a foreign concept. I was over the moon that I could still listen to what was happening. 
I'll share some more of my own memories of Saturday Night's Main Event, but this will be a look back at this pretty groundbreaking show that was a huge thrill for kids like me.
The State of Pro Wrestling Up to That Point
This is obviously a gigantic topic, so we need to cover the basics before getting to Saturday Night's Main Event.
In the 1970s, and going into the early 80s, professional wrestling was divided up into territories throughout North America. There were dozens of them, such as Mid South Wrestling and the World Wide Wrestling Federation. Each territory would have its own stars, and it wasn't common for wrestlers to expand beyond their region.
This would slowly change when athletes like Andre the Giant would go from territory to territory as an attraction. In the North East, Vince McMahon Sr. was running what would become the WWF. His son, Vince, would take over from his father—but he had a unique idea.
He believed he had a better product and was starting to poach wrestlers from other territories such as the Junkyard Dog, HIllbilly Jim, and a new up and comer that had gone by names such as Terry Boulder, and Sterling Gold.
You know him better as Hulk Hogan.
McMahon believed he had a better product and wanted to go head-to-head with all the different territories. McMahon was warned about this because of the unspoken rule that you don't cross boundaries. But things were changing. One of the big changes was the advancement of cable television. McMahon could now record his shows and air them all over the country. 
To sum it up quick; this approach worked. From there, the WWF—built on the popularity of Hulk Hogan—soon took the country by storm. Their partnership with MTV gave them even more exposure, and McMahon threw everything he owned into a giant one-night-only spectacle called WrestleMania. It was obviously a success as we're here talking about it today. 
Setting the Stage For Saturday Night's Main Event
Today, it seems like there are 100 pay-per-views each year. Back then, there were only a couple. It would take several years until the "Big Four" became part of the WWF and that would include:
WrestleMania
Survivor Series
The Royal Rumble
Summer Slam
These all wouldn't be in place until the end of the decade, so they needed something that could serve as a big showcase event. This is still the 1980s where TV reigned supreme. Pay-per-view was still relatively new, expensive, and not available to everyone. Some areas could only offer a closed-circuit showing, which I remember my city doing. Again, these were super expensive, and TV was the way to reach a nationwide audience.
If you remember back to those days, there were various WWF programs that would air on the weekend including:
Superstars of Wrestling
Wrestling Challenge
Prime Time Wrestling
Here in Canada, we had Maple Leaf Wrestling, and these were all shows you would watch that would catch you up on everything happening in the WWF. But if you remember these shows, you probably recall how lackluster they were.
There would be many wrestlers you didn't really know, and the shows wouldn't feature any big angles. You also got a limited amount of the big superstars as they were trying to push them more in the live events. You also would rarely see Hulk Hogan—which is all I really wanted. If a big superstar such as the Macho Man or Big John Studd was on one of these shows, it was usually for just a squash match against some unknown jobber. You would never see a big superstar match up.
Saturday Night's Main Event would change all this. 
The Beginning of Saturday Night's Main Event
Saturday night at 11:30 pm is of course the long-running time slot for Saturday Night Live. But they didn't run every single week. There would be several times during the year that they would be off for the week. Dick Ebersol was the producer for SNL at the time, and he was also friends with Vince McMahon. What about using the downtime from SNL to air WWF programming?
Ebersol had seen how rapidly the WWF was growing, and the ratings they had with their MTV crossovers were pretty mind-blowing. I've got an article all about Hulk Hogan's Rock n' Wrestling that covers more of the MTV/WWF crossover right here if you want to see how this all came together.
Ebersol knew it would be a good idea to get the WWF back onto prime-time TV. He made a deal with McMahon (apparently just a handshake deal, as the two are lifelong friends) to air a made-for-tv event several times a year. 
The first edition of Saturday Night's Main Event aired on May 11th, 1985, and took place at the Nassau Veterans Memorial Coliseum in New York. Fun fact: these events were never live, and either taped the day before, up to a few weeks before. This event featured only a few matches–but they were all big ones. You had:
The Junkyard Dog vs Pete Doherty
The US Express and Ricky Steamboat vs Nikolai Volkov, the Iron Sheik, and George "the Animal" Steele
Wendi Richter and Cyndi Lauper vs the Fabulous Moolah (to capitalize on their previous MTV events)
Hulk Hogan and Mr. T vs Cowboy Bob Orton and Roddy Piper
If you know your wrestling history, this is pretty much a rehash of WrestleMania 1, which had only just happened a few months before. But it didn't matter as the WWF was super hot and over 10 million people tuned in, giving it an 8.8 rating. It was easier to get big ratings in the 80s, but this is still late on a Saturday night. This was a big deal, as Saturday Night's Main Event was doing better than many SNL episodes. The very best rating for an SNL season in the 80s was the 1980/81 season that did a 9.5 rating. 
Things would just keep getting better. 
Saturday Night's Main Event Hits Its Stride
The second edition of Saturday Night's Main Event would take place 6 months later on November 2nd, 1985, from New Jersey. This time, there were 5 huge matches including Hulk Hogan vs Nikolai Volkoff (with Classy Freddie Blassie, of course). There was also Mr. Wonderful Paul Orndorff vs Roddy Piper and Andre the Giant and Tony Atlas vs Big John Studd and King Kong Bundy.
Side note: My aunt once got me an autograph picture that Big John Studd had signed, and it was one of my most prized possessions. I also got to meet King Kong Bundy at a small indie show in my city years later. He was actually really nice.
This event did another impressive 8.3 rating. 
It's important to note that there were no other pay-per-views yet besides WrestleMania (Survivor Series wouldn't debut until 1987), so if you wanted to see big matchups–you would have to watch Saturday Night's Main Event. 
The other big thing to note is that Saturday Night's Main Event featured title matches—which you wouldn't often see on other WWF programming—and we would see titles change hands. The show was such a big ratings hit that they could feature big moments and create important storylines and angles. 
You would never see a title change on Superstars of Wrestling. 
A significant episode of Saturday Night's Main event would take place on March 1, 1986, from Phoenix, Arizona. This is the one that is most cemented in my mind and one that I listened to on cassette. This was the night that Hulk Hogan faced The Magnificent Muraco. Hogan defeated Muraco but then was attacked by Bobby Heenan and King Kong Bundy. Hogan would face continuous avalanches and splashed from Bundy to the point he was "knocked unconscious."
I remember crying about this because Hogan was my hero and had been viciously attacked and had his ribs broken. I never saw the footage till later but had to listen to this attack on cassette tape. Wrestling was all too real to a little kid like me in the 80s, so I remember how upset I was about this. 
This event would set the stage for WrestleMania 2 where Hogan (with taped ribs) would face King Kong Bundy in a steel cage match. (Hands up if you had a toy wrestling ring as a kid that had the blue steel cage that would attach on the sides). This was another massive event that did a 10.0 rating. 
Each edition of Saturday Night's Main Event just seemed to get bigger and bigger. To me, the best episode was #9 that aired on January 3rd, 1987. Just check out this awesome promo for it. 
Things Start to Slow Down
Granted, this took a while to happen—but we all know Saturday Night's Main Event didn't last forever. Through 1987 and 1988, it was still a massive ratings hit. It would regularly attract 10+ million viewers, making it an advertiser's dream. 
The big one would happen on March 14, 1987, at episode #10 from the Joe Louis Arena in Detroit, Michigan. This was the last event before the monumental WrestleMania 3 and was the first time we saw Hulk Hogan and Andre the Giant face each other before their historic match. 
The event featured a battle royal that Hogan and Andre were both a part of. We waited in anticipation for the two to lock horns, but it wasn't happening. Finally, a moment happened where the two were launched into each other to stare the other down in the middle of the ring while everyone backed off. Then Koko B. Ware jumped in to try to attack the giant, and the others followed. It was the perfect tease to see them almost match up and build the anticipation for the biggest wrestling event in history. 
This episode did a massive 11.6 rating and to this day, remains the highest rating that any show in that time slot has ever done. 
By this point, Saturday Night's Main Event had settled into a nice schedule, airing an episode on:
New Year's weekend
Late February/early March
Late April/early May
Late September/early October
Thanksgiving weekend
You can see how this all perfectly corresponds to the Royal Rumble in the early part of the year, WrestleMania in the spring, Summer Slam, and then the Survivor Series in the fall.
But interest in pro wrestling would start to diminish into the early 90s. Some stars were leaving, Hogan was moving towards Hollywood, and then would leave the company in 1993 for rival WCW. NBC was also less interested in professional wrestling and decided to drop the show.
The final episode aired on April 27, 1991. It would be picked up by Fox to air a couple of episodes but the very last edition of the original Saturday Night's Main Event took place November 14, 1992. That event featured the Ultimate Maniacs (the Ultimate Warrior and Randy Savage) vs Money Inc. (Ted DiBiase and Irwin R. Schyster aka IRS.)  It also featured a young Shawn Michaels vs The British Bulldog. 
Fun fact: If you're a current wrestling fan, Irwin R. Schyster is the real-life father of Bray Wyatt or the Fiend as you may know him. 
The Resurrection of Saturday Night's Main Event
The show was off TV for 14 years until it was brought back in 2006 The now WWE was a much different place than it was when the show last aired. The Attitude Era was long done and new stars like the Rock had already left for Hollywood. 
The event took place on March 18, 2006, from the Cobo Arena in Detroit. One way that made this show so different from its predecessor was the inclusion of legitimate women's wrestling. Episode 32 featured Trish Stratus vs Mickie James. It also featured the soon-to-be face of the company, John Cena. 
Several more editions of this modern Saturday Night's Main Event would take place going into 2008. They were fun as they featured the original introduction promo style used in the original show. They didn't do great ratings-wise, but this was a whole new world of television and content. There was more to compete with and it was tougher to create any interest in it for younger fans as Saturday  Night's Main Event didn't necessarily mean anything to them.
There was also a ton of WWE content always available, so this was pretty much just another show. 
The VERY last episode took place on August 2, 2008, from the Verizon Center in Washington, DC. By this point, there was such little interest in the show that thousands of free tickets were given away to help fill the arena. 
The very last match in Saturday Night's Main Event history featured Edge vs Jeff Hardy. 
Final Thoughts 
Saturday Night's Main Event was a huge part of my childhood and a pivotal part of the success of the WWF. Like the rest of the company, they built the event on the back of Hulk Hogan. As I mentioned at the start, you would almost never see Hogan wrestle on the syndicated cable shows. He was perfectly used as an attraction and used sparingly to build more excitement around him.
I think if Saturday Night's Main Event wasn't the success it became, we would have rarely seen him on there, too. But it became a mainstay in the company's success and was the perfect way to build interest in the upcoming pay-per-view. 
The heyday of Saturday Night's Main Event was the real golden age of professional wrestling. The business always has its ups and downs, but it really stayed steady for the entire decade. Going into the early to mid-90s, the WWF would face a real decline in ratings and quality.
All of this would change, however, as the Monday Night Wars would heat up against WCW. It was also around this time that a beer-drinking redneck wrestler from Texas would change the world of professional wrestling forever—giving birth to the Attitude Era and one of the most lucrative times in the history of the business.