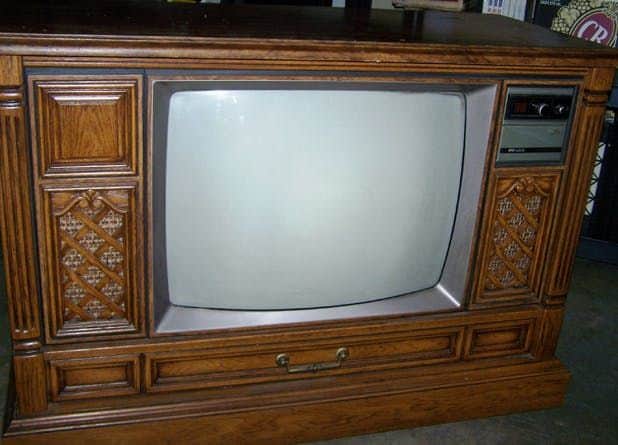 What a time to be alive.

We got pretty spoiled growing up with so many classic TV shows and we need to look at the 21 best TV shows from the 80s. Since there were only three networks pretty much, this created more of a collective viewing experience. Today, there are so many entertainment platforms vying for your attention that it feels like you're getting buried by content.

This article will look at a time when it was easier to access the most popular shows happening on TV. This is, of course, coming from my perspective so this list caters to my own senses, but here is a rundown of the 21 best TV shows from the 80s.
Conditions:
 I'm going to focus on shows that had their main run through the 80s so not including ones that started in 1989 but gained popularity in the 90s like Saved by the Bell or Seinfeld.

That will also include shows that started in the 70s and ran for a few years into the 80s like Three's Company or The Muppet Show. This list also varies from my article all about the best cartoons of the 80s, so be sure to check out that article too.

OK, let's get to this definitive list…

The 21 Best TV Shows From The 80s
21. Silver Spoons
Silver Spoons was a show that was able to showcase Ricky Schroder as Ricky Stratton in a sort of Annie meets the Fresh Prince situation. Ricky moves into a mansion with a father he has never met. His dad is a man-child who runs a toy business and Ricky helps him to grow up. His mother was only married to his father for a week and he has a grandfather who shares Ricky's sensibilities. 
Silver Spoons ran from September 25, 1982, to May 11, 1986, airing on NBC and then had a syndication season going from September 15, 1986, to March 4, 1987. You may not remember it running this late into the decade and it was a Sunday night show that aired at 7:30. This was a fun show that featured the theme song "together" which changed a bit over the seasons, including a synthesized version. 
It was a good show but not an all-time great, but still worthy of this list. Here are a few fun facts:
This series introduced us to a young Carlton Banks aka Alfonso Ribeiro who was brought in to "hip up" the show
The house used in the opening is actually located in England and has the great name of Compton Wynyates and built in 1481 for crying out loud
Silver Spoons introduced us to Jason Bateman who played Derek and was getting so popular they were worried about him upstaging Ricky. This actually got him pulled from the show.
20. The Golden Girls
The Golden Girls was way out of my wheelhouse but a notable show in the 80s that had a huge following. It started on NBC on September 14, 1985, and ran until May 9, 1982. Golden Girls was the story of four older women who share a home together in Miami. This show really had some heavyweight stars in Betty White, Bea Arthur, Rue McClanahan, and Estelle Getty. 
I remember seeing Golden Girls and even at a young age realizing a lot of the jokes were pretty taboo. The series featured great writing and won multiple Emmys and Golden Globes. Golden Girls was a rating juggernaut too as it was always in the top ten rated shows except for one year out of the entire 7 seasons. In that last season, it dropped to number 30, but the show would usually average at least 20 million viewers. 
Golden Girls would usually be much higher on a list like this, but since I'm writing this from my perspective, Blanche, Sophia, Rose, and Dorothy will just have to be happy to make the cut
Each of the four stars won an Emmy at one point making it one of only 3 sitcoms ever to do this
The original script featured a gay cook which would have been pretty groundbreaking. But it was thought the show should feature a lot of scenes in the kitchen and it was better for the girls to be cooking
Estelle Getty's character of Sophia was originally going to be a guest star but auditioned and tested so well they had to include her
19. Dallas
I shot J.R. – are you happy now? Dallas, like the Golden Girls, was another show that was above my head as a young' un in the 80s, but I was very aware of it. Dallas may have been the invention of 'water cooler talk' as it was one of those shows that created a gigantic collective viewing experience.
The series centered around the Ewings, a very rich family from Texas that was always a fussin' and a feudin'. The show first started out focused on the marriage of Bobby and Pamela, and then the character of J. R. Ewing took center stage. Dallas was originally intended as a five-part miniseries for CBS but was so successful that a whole series was commissioned. The show was a hit due to its pretty dramatic themes of power, sex, money, wealth, and basically all the deadly sins from the Bible.
Most people probably don't realize, but Dallas ran for the entire decade in the 80s. It started in 1978 with the miniseries but then ran all the way until 1991. From 1980 to 1986 it was always in the top ten most-watched shows and the overall number 1 in 1981, 1982, and 1984. The other years it was still number 2. This show was big is what I'm trying to say. It originally aired on Saturday nights which is usually not touched by original network programming but would end up moving to Sundays. 
Then there was the ultimate cliffhanger in the "who shot J.R." finale of the 1980 season. The reveal show was the fourth episode of the fourth season and one of the biggest moments in TV history – but the Simpsons "who shot Mr. Burns" was still better…
The 'who done it' episode was delayed until November as one of the first networks to take advantage of "Sweeps Week"
That episode was watched by 83-90 million people aka 76% of all U.S. TV viewers were watching that show. That is bananas
This episode had the highest rating of any TV show in US history until it was dethroned by MASH. This is what I mean about the 80s creating these collective viewing experiences
18. Magnum P.I.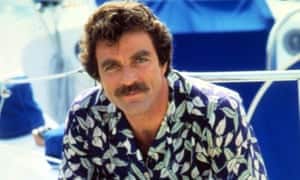 This show was, to me, like if Indiana Jones drove a boat. A young and handsome Tom Selleck starred as Thomas Magnum who was a private investigator living in Hawaii. Magnum is kind of like a playboy who is able to take on the cases that interest him most. He's that typical "play by your own rules" type of guy and thankfully, we see him live on in Chief Jim Hopper from Stranger Things.
Magnum P.I. ran from 1980 to 1988 which was much longer than I had realized. The show featured amazing locations and the sweetest cars you could see on TV. At its peak, Magnum P.I. was the number 3 show in 1983 attracting over 22 million viewers.
They had actually planned to kill of Magnum at the end of the seventh season but fans went nuts and this was actually why an 8th season was released – as a way to give Magnum a better send-off. Magnum P.I. was also a big critical hit which I was not aware of and was nominated for 19 Emmys and 13 Golden Globes. Yowza
Did you know Selleck himself actually won an Emmy for this? 1984. Who knew
A Magnum P.I. film was being planned in the 90s written by Tom Clancy who was a huge fan of the show. Obviously this never happened.
Speaking of Indiana Jones, being contracted to Magnum P.I. cost Selleck the role for Raiders of the Lost Ark. Ouch
Turns out there was a writing strike that year that delayed filming on Magnum P.I. meaning he could have taken the Indiana Jones role but it had obviously already gone to Harrison Ford. Double ouch
17. Bosom Buddies
We can thank Bosom Buddies for helping bring Tom Hanks to the world. This was a weird show that only ran for two seasons from 1980 to 1982 and was all about two single guys who had to disguise themselves as women in order to live in the only apartment they could afford.
It's a funny idea on paper and Tom Hanks and Peter Scolari were able to make it work as Kip Wilson and Henry Desmond. Bosom Buddies felt like a trial run for what would eventually be Perfect Strangers (spoiler alert: Perfect Stranger is on this list unless you scrolled ahead you dishonest so-and-so). 
Ratings wise, it didn't do so well as I think the bizarre quirky humor was lost on a lot of people. This show is notable as it does feature quite a lot of improv which isn't very common for a network sitcom. Hanks and Scolari were able to improvise off each other pretty well and a lot of that is what you ended up seeing in the shows. 
Bosom Buddies is interested because it may have been one of the big victims of the Screen Actors Guild and AFTRA strikes of 1980. The show started with good ratings but the effects of the strike were felt and the quality of the show suffered leading to a big drop in ratings. It coasted into the second season on fumes where they tried to revise the premise where they find out that Kip and Henry are (this is 1981 talking, not me) living in "drag", but they are allowed to stay living in the apartment. 
Bosom Buddies was meant to be the male version of Laverne and Shirley
It was filmed on the same stage where the Lucy Show was filmed and was later used for Cheers and Frasier
The show was originally pitched as a "Buddy Comedy" but some confusion in the pitch meeting got it sold as a "show with men in women's clothing"
16. Night Court
I loved Night Court. I think I was just old enough to get the humor, even though a lot of it would still fly over my head. The premise was funny and Harry Anderson and his magic tricks made for a great draw to the show. 
The premise for Night Court was extremely simple as it followed the night shift of a New York municipal court. Harry Stone was the judge who presided over the court and served like a Johnny Carson type figure. It was the casting and character that made Night Court such a great show including people like Markie Post, Richard Moll, and the great John Larroquette. 
Night Court ran from January 4, 1984, to May 31, 1992 – and I never realized it had run 8 seasons. It has a great jazz based intro/theme song and would be a top ten show in 1987 and 1988. Night Court was also nominated for a ton of awards with John Larroquette winning three Emmys for best-supporting actor. 
A pre-Seinfeld Michael Richards appeared on Night Court as a man who thought he was invisible
Due to a syndication deal that fell through, Night Court never got a proper season finale, which would be remedied by an episode of 30 Rock
Richard Moll aka Bull, ended up being bald after filming a sci-fi movie and   like the way it looked
15. Cheers
Cheers should probably be higher on this list, but this is again from the viewpoint of a kid who grew up in the 80s. I still liked what I had seen of Cheers, but grew to like it more and more as I got older. Cheers was important for setting the stage for "Must See TV" which would help turn NBC into a juggernaut with Seinfeld and Friends not far around the corner.
Cheers also gave us the classic "will they, won't they" between Sam and Dianne, which would pave the way for other sitcom couples like Ross and Rachel, and Jim and Pam. Cheers ran into 1993 but started way back on September 30, 1982, on NBC. When it first debuted in absolutely tanked finishing almost dead last in the ratings. Apparently, the concept of people just sitting around in a bar and drinking didn't resonate with audiences.
But then something happened. Slowly but surely, Cheers moved its way up to become one of the highest-rated shows through its whole run. It was in the top ten in 8 out of its 11 seasons and at its peak was getting over 27 million viewers. It featured an all-star cast including Ted Danson, Shelly Long, George Wendt, Woody Harrelson, Kelsey Grammer, and Kirstie Alley. It also features one of the most iconic theme songs in television history. 
The real-life death of Nicholas Colasanto aka Coach needed to be written into the show but it's also what brought Woody Harrelson into the series 
The original goal of the show was to replicate the Mary Tyler Moore Show, but in a bar
I once took a beer mug from the real Cheers in Boston…
14. Miami Vice
If there was one show that personified the style, music, and culture of the 80s, it was Miami Vice. Miami Vice was the story of Tubbs and Crockett who were undercover detectives working in Boise. OK, obviously Miami. The show ran from 1984 to 1989 on NBC and was a pretty groundbreaking show – even though we kind of snicker looking back on it.
Miami Vice was unique as it served itself similar to a music video replicating the now dominance of MTV (check out my article all about the history of MTV). It was really based on the New Wave culture of the 80s and would include segments with mainstream songs. No other shows on TV had really ever included any pop music in their episodes, relying on their own music design and scores. 
With its bold pastel colors and outfits, Miami Vice was able to separate itself from a lot of the other cookie-cutter based shows that you could find all over TV. There was a lot of action on the show with frequent gun battles and a focus on combatting prostitution and drug trafficking. Miami Vice was basically an MTV crime-drama, and it made the show an instant hit. 
The first season generated a staggering 15 Emmy nominations
To take advantage of its contemporary soundtrack, Miami Vice was one of the first show to be broadcast in stereophonic sound 
Actors considered to be cast on the show included Jeff Bridges, Nick Nolte, and Mickey Rourke – all of whom I could see really working for it. 
13. Who's The Boss
Who's The Boss is like a blueprint for an 80s sitcom. It aired on ABC and starred Tony Danza who was a retired minor league ballplayer who now works as a nanny for a divorced executive. It featured the very popular Alyssa Milano and the whole show worked so well due to its simple "role reversal" premise.
There was always the tension between Tony and Angela that worked well too and helped drive the series. The show debuted on September 20, 1984 and ran till April 25th 1992, which was much longer than I remembered. 

Who's The Boss wasn't my absolute favorite but a show that was very easy to watch and jump in at any point. You may forget what a success this show was in the 80s and was nominated for 40 Emmy's and Golden Globes. Plus, everyone loved Alyssa Milano…
The original title was going to be "You're The Boss" in reference to Angela hiring Tony
Who's The Boss always aired on Tuesday nights, but moving it to Saturday to created an alternate to TGIF would kill it in the ratings leading to the end of the series
A spinoff called "Living Dolls" was planned that would feature Halle Berry and Leah Remini as Remini had appeared on a few episodes
12. Growing Pains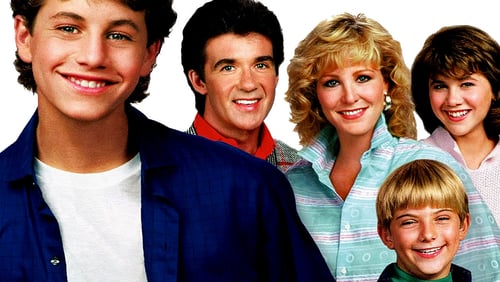 Growing Pains followed in that same Who's The Boss model and was the quintessential family hit that everyone should watch together. Like Family Ties, a lot of the success of the series was built off the back of the young and hunky Kirk Cameron. 

Growing Pains was centered around the Seaver Family with the great Canadian Alan Thicke as the head of the family. He's a psychiatrist that works from home as his wife Maggie is out in the world working as a reporter. 
The show was very light and airy and didn't follow any certain premise. It wasn't threatening, and some considered it a bit too hollow. Johnny Carson would regularly make cracks about Growing Pains in his monologues and how it lacked any depth.
 What made this successful is that the Seaver family was a lot like a majority of so many real-life families. You felt like you were watching your own family on TV and this made it easy to draw in a good size audience. The show debuted on September 24, 1985, and ran until April 25, 1992.
In 1988 it was the 5th highest-rated show and would regularly attract 20 million viewers. Growing Pains had an amazing theme song in "As Long As We've Got Each Other" and also brought us a young Leonardo DiCaprio who showed up in season 7.
There were different versions of the opening filmed that featured a different character to be last to enter the house – the show that week would usually center on that person
Nine different versions of the theme song would be used over the series
"As Long As We've Got Each Other" actually made it on the charts. It hit #5 on the adult contemporary chart in 1989 and #7 on Billboard
11. Diff'rent Strokes
Diff'rent Strokes was a bit of a tough one. It was a very huge show but dealt with some pretty tough topics. It has a pretty unique premise based on a rich white businessman taking in two black inner city boys from Harlem
I remember feeling a bit overwhelmed with Diff'rent Strokes, but it still felt like required viewing. They really were the ones that pioneered the "very special episode" which you knew was going to be jarring as soon as you heard those words. Over the series, they tackled subjects like racism, kidnapping, abuse, drug use, and more. The drug episode was a major TV moment as it would feature Nancy Reagan and the "Just Say No" campaign. 
Diff'rent Strokes was also the vehicle that launched Gary Coleman making him a focal point of the show along with Todd Bridges and Dana Plato. Diff'rent Strokes also brought us the catchphrase with the iconic "what'chu talking about Willis" which would lead to things like "Did I Do That?" from Steve Urkel and Family Matters.
Diff'rent Strokes also seem to be pioneers of a different sort where the childhood actor fall from grace seemed to plague the show. It also, surprisingly, wasn't much of a ratings hit
The original title was going to be "45 Minutes From Harlem"
Diff'rent Strokes led to the spinoff "The Facts Of Life" featuring their housekeeper, Edna Garrett
Arnold would appear in a Silver Spoons episode bringing this list together nicely
10. Small Wonder
Small Wonder was so weird but so worth watching. It was completely unique and was based on an inventor who created an artificially intelligent robot named Vicki who ends up living with the family. Small Wonder was the perfect kid's show (sort of) and I feel like It was right in my wheelhouse when it came out.
Vicki is kind of like an Avenger and has a ton of superpowers that she can use in ordinary situations. The Lawson family also has to keep her real identity under wraps and that premise, like in ALF, always works well in a sitcom.
The show was interesting because it was one of the first that was made primarily for syndication. That meant the show cost next to nothing to produce and they could include some decent technical shots in it. It came out in 1985 and would run for four seasons. 
Tiffany Brissette who was actually a multi-talented actress (and was up for the role of Punky Brewster) was very limited in showing off her abilities on the show
The kids all got along well but the mothers of them were apparently nightmares on the set demanding special attention to their child
In other countries where the show was dubbed, it would be called Super Vicki
I've got a whole blog all about Small Wonder that you can check out here
9. Punky Brewster
See, this piggybacks nicely off of Small Wonder. Punky Brewster was like a cartoon come to life, a huge hit with kids, and the perfect premise for an 80s kids show. In this show you got the very talented Soleil Moon Frye playing Punky who is an orphaned girl taken in and raised by a foster parent
Punky Brewster aired on Sunday nights and that made it a bit of unique situation considering it was a kids show. The FCC had put it place regulations that networks had to use the time period of 7 to 8 pm to for news programs or family entertainment. This is one of the reasons you would see The Wonderful World Of Disney or The Jim Henson hour during this time slot. Since NBC didn't want to go up against the mammoth 60 Minutes, they decided to go the family route and Punky was born.
As much as Punky Brewster was kid based, it got into some deeper stuff than even Diff'rent Strokes. They covered missing kids, serial killers, drug use, the Challenger disaster, and even the infamous "Fridge episode". But the character of Punky struck a huge chord with kids who loved the show and its cartoon spinoff.
The character of Punky was based on a real person. Peyton "Punky" Brewster was a childhood friend of NBC programming director Brandon Tartikoff
Punky Brewster would make 15-minute long episodes to compete with Monday Night Football in the event that the games had gone long
The character of Punky was getting 10,000 letters a week from kids that thought she was a real person
Check out my whole blog all about Punky Brewster here!
8. Webster
Webster was one of my go-to after school required viewings. This was one of my favorite shows of the 80s and one that I felt very immersed in. Webster was played by Emmanuel Lewis who has lost his parents and is taken in by an ex NFL player named George Popadopolis (this seems to be the theme of a lot of 80s shows…). 
The show was to mainly focus on the life of George and his wife Kate and how they would adapt to being newly married with a kid throwing in the mix. Emmanuel Lewis was so good though that he became more of the focus of the show. This actually caused a lot of tension on set with Alex Karras (George) and real-life wife Susan (Kate) fighting with ABC, production staff, and writers over this.
 Webster debuted on September 16, 1983, and went till May 8, 1987. It started in syndication in 1987 with two new seasons and that's where I would happily watch it every day. Webster was an instant hit but of course, drew comparisons to Diff'rent Strokes. A very notable episode was the fire Webster accidentally starts in his closet which leads to the destruction of their apartment.:
The show was going to be called Another Ballgame at first when Karras was going to be more of a focal point
When Lewis came on board, the name was then changed to Then Came You
Emmanuel Lewis was 17 by the end of the series playing someone half his age
7. The Cosby Show
It's hard to look back on the Cosby Show now without it being tainted. This also makes it hard to rank on a list like this, but it has to be included. The Cosby Show was an absolute powerhouse and should be considered the most prominent, and successful show of the 80s. You had "Americas Dad" in Bill Cosby and was a show that no one could touch ratings-wise, or in viewership.
The Cosby show, of course, was the story of Dr. Cliff Huxtable and his family which were an upper-class family that lived in Brooklyn. His wife was Clair, and they had five kids; Theo, Sondra, Denise, Vanessa, and Rudy. 
The Cosby Show was "must-see TV" before that was even a thing, and this was one of the few shows I remember watching with my whole family. It can't be understated how big this show was. From 1986 to 1990 it was the number one show in America. Every year. The Cosby Show would routinely get over 30 million viewers an episode which is 10 million more than Monday Night Football gets today. 
So it's hard to look back on the Cosby Show lightly but this show single-handedly recreated the sitcom and allowed for more African-American based shows like Family Matters, A Different World, In Living Color, and The Fresh Prince of Bel Air. 
ABC passed on the show originally giving NBC a chance to get it. OUCH
Seven versions of the theme song were used over the series
The Cosby Show has made $2.5 billion in TV revenue
6. Perfect Strangers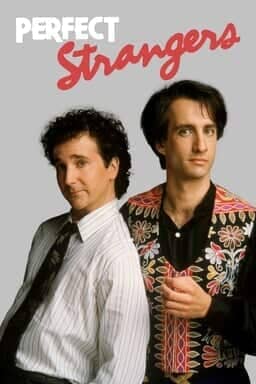 Perfect Stranger is another fun and harmless show and worthy of a high place on this list of the 21 best TV shows from the 80s. It was another show that I remember my whole family being able to watch together and it took that classic "fish out of water" scenario that's used in endless scenarios.

Perfect Strangers starred Bronson Pinchot and Mark Linnbaker as Balki Bartokomous and Larry Appleton. In Perfect Strangers, you've got a classic odd couple type scenario with an American and his extremely foreign cousin. They try to co-exist, and we get to laugh at Balki being the original Borat.
Perfect Strangers came out on March 25, 1986 and ran until August 6, 1993 for 8 seasons which was more than I thought it had. Perfect Strangers is an important show in TV history as it first started on Wednesdays but then moved to Friday where it becomes the anchor for the monumental TGIF lineup. It's crazy to think of a time where Friday was a must stay at home at night. Perfect Strangers put together a perfect combination of elements that made for one great sitcom. 
The great theme song "Nothings Going To Stop Us Now" was written by the same duo who composed the themes for Full House, Step-by-Step, and Family Matters
Perfect Strangers is what led to Family Matters as the role of Harriette Winslow originated on it
Balki and Larry were to appear in the Family Matters pilot but the scene was cut. Damnit
5. ALF
ALF may be one of my favorite shows of all time – not just the 80s. It came out in 1986 where I was 9 and felt like part of the target audience for it. ALF, of course, is the story of Gordon Shumway who hails from the planet Melmac and crash lands on Earth, ending up living with the Tanner family. The humor and toned played well to kids and families making for a good collective viewing. 
ALF was pretty unique as the entire show was based around a puppet – and this led to a lot of issues. Shooting ALF was so technically difficult. The whole set was four feet off the ground for the puppeteers to operate ALF and trap doors were spread throughout the set. Due to all the takes, and coordinating with a puppet, each 22-minute show would take 20-25 hours to shoot. Yikes.
Max Wright who played Willy Tanner was noted for being so disgruntled having to play second fiddle to a puppet that there's a story of him actually attacking ALF. ALF ran for only four seasons but left with an unresolved cliffhanger where ALF is captured by the Alien Task Force. This was the strategy of the show's producers to force another season but it didn't work. It did give us Project ALF – But it's NOT canon.
The appearance of ALF was kept secret right up until the first day of shooting with none of the actors knowing what he looked or sounded like
Paul Fusco who created and voiced ALF had to audition his character for who turned out to be the former manager of Jim Henson. No pressure…
The planet Melmac is named after a brand of old dishes
I've got a great blog that goes much more in-depth on ALF. 
4. The Dukes of Hazzard
We now can see this show as potentially more offensive, and possibly racist too, but if you were a kid growing up in the 80s, nothing beats the Dukes of Hazzard. It was a kids dream come true to watch the carefree life of Bo and Luke Duke and one of the sweetest cars in history – the General Lee. I think the Duke of Hazzard worked so well as the characters and the casting were all perfect. You've got the cool Duke Boys, the elder in Uncle Jesse, the smoking hot Daisy, the evil Boss Hogg, and the bumbling Rosco P. Coltrane.
Every episode was pretty much the same, the Duke boys would evade the law, and we would get some epic car chases and crashes. We didn't care though, and the Duke of Hazzard brought great entertainment each week. It first aired on January 26, 1979, and went until February 8, 1985.
The only problem was the letdown when cousins Coy and Vance Duke would show up, but little did we idiot kids know they came in due to contract disputes for John Schneider and Tom Wopat.
The Dukes of Hazzard was a big ratings hit and aired after Dallas making it the number 2 most-watched show
In the later seasons, miniature cars were actually used for some of the stunts
309 Dodge Chargers were used over the series as the General Lee
3. Family Ties
Family Ties was, to me, the perfect sitcom. It was a huge hit in my family, and in a lot of families. It helped launch Michael J. Fox and was required Sunday night viewing. This Sunday night time slot I believe really helped solidify it as a family show and generate a strong viewing audience.
I never missed an episode of Family Ties and the iconic "Without Us" was like a familiar calling card. Family Ties is interesting as it is centered around a family during the Reagan era and the movement towards more conservative values after the liberalism of the 60s and 70s. The show centered around Alex P. Keaton who was a strong republican in contrast to his more liberal, hippy parents. 
Family Ties came out on September 22, 1982, and ran 7 seasons until May 14, 1989, making it a true show of the decade. The writing was great, the acting was great, and it was funny. I was a huge Michael J. Fox fan, and in conjunction with Back to the Future, he seemed to rule the decade.
When Family Ties came out, it was not a ratings hit but would move into the top ten and reach the number two overall show for 1986 and 87 pulling in over 30 million viewers an episode.
Micheal J. Fox was so exhausted between filming Family Ties and Back to the Future that he panicked one night before a scene on the TV show because he couldn't find the "red camcorder"
The show introduced some soon to be huge stars such as Courtney Cox, Tom Hanks, River Phoenix, Corey Feldman, Will Wheaton, and Geena Davis
The show was sold on a four-word pitch: "hip parents, square kids"
2. The A-Team
Ugh, it's hard to have the A-Team at number 2 and not number 1, but I'll explain my reasons. The A-Team was like G.I. Joe come to life, and for a boy in the 80s, this was a mindblowing viewing experience.
The A-Team was action-adventure and featured the iconic Mr. T that ran from 1983 to 1987 on NBC. With one of the greatest TV intros of all time, we learned that the A-Team was part of a special forces unit who were court-martialed for a crime they didn't commit. They are still on the run but can be hired – if you can find them…- for any problems you have.
The A-Team worked well because each episode was like a standalone show. There weren't a lot of long story arcs that made you have to watch multiple shows in a row to follow the story. With the A-Team; you could just jump in at any time and take in the action. The characters were all bad assess, they drove an awesome van, and there were a lot of explosions – the perfect recipe for a show. 
Ratings wise the A-Team was huge with up to 20% of the viewing audience tuning in and would score some of the highest ratings NBC had in years. But in the fourth season, things started to fall, and they dropped as low as the 29th spot. It's hard to say what caused this, but I still had my A-Team lunch box…
No one is ever actually killed on the A-Team, nor is there any blood
The B.A in B.A Baracus stood for "bad attitude" naturally
There were hilarious cameos including Pat Sajak, Vanna White, Hulk Hogan, and Rick James
1. Knight Rider
Knight Rider is number one on my list of the 21 best TV shows from the 80s because every episode felt like an event. For a kid growing up in the 80s, Knight Rider was the epitome of cool as hell. It was cinematic, and it felt like you were watching a movie every week.
I was just old enough to watch it and always had the feeling that I technically shouldn't be allowed as it was a bit dangerous. It featured a cool hero in Michael Knight and the sweetest damn car in history – K.I.T.T.  Knight Rider came out in 1982 and went until 1986 telling the story of a modern-day crime fighter and his artificially intelligent car.
It had an incredible intro and theme song and this set the stage for all the amazing action and adventure to come. K.I.T.T (voiced by William Daniels aka Mr. Feeny) looked and sounded better than anything we could imagine. I've got so much more on Knight Rider in my blog all about it but here are a few notable facts:
K.I.T.T. stood for Knight Industries Two Thousand
Williams was never actually credited for doing the voice of K.I.T.T
David Hasselhoff and Williams never even met until a Christmas party later that year
So that's my list, did I leave anything out? Feel free to share some of your favorites in the comment section below. And while you're here, why not head over to my 1980s goodies page to check out some 80s toys and items you can still buy on Amazon.
And do yourself a solid and sign up for the Everything 80s newsletter so you can continue to relive the greatest decade!