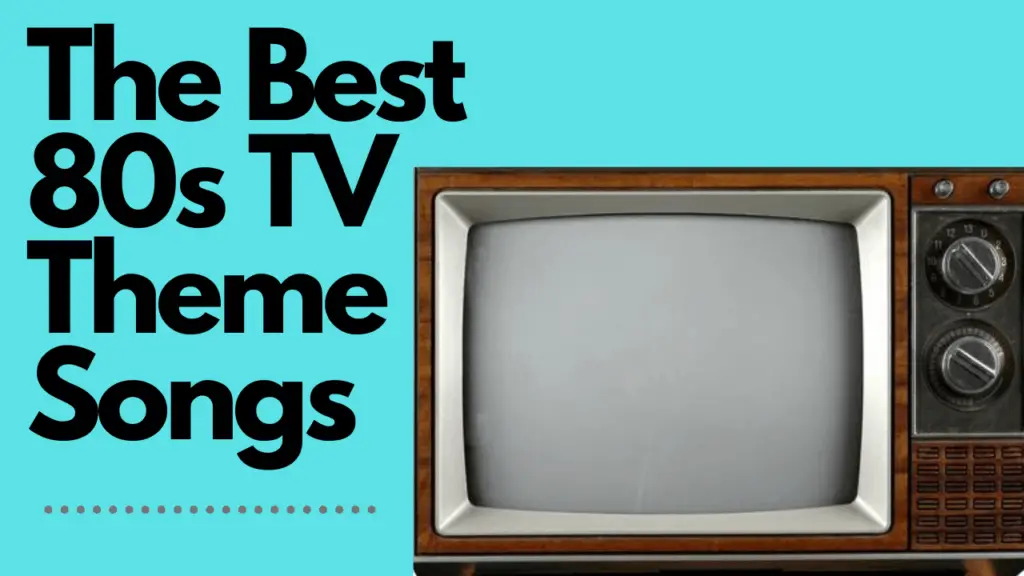 The second you heard those first few notes of your favorite 80s tv theme song it would light you up. The show itself was always great, but the theme song really set the mood for everything you enjoyed about it.
Creating a good tv theme song can be as important as the casting of the characters or the setting that the show takes place in. The right theme song can encompass the essence of the show in a nice 60 seconds little package.
In the 80s, tv theme songs were at their peak and served as mini-movies breaking down what the whole show was about. You could jump in at any episode but get a good refresher on the premise of the show just by the opening and the theme song.
This blog will be a look back at 13 of the best 80s TV theme songs that have now become iconic in this day in age. It is really hard to narrow this down into any form of a list, but this is kind of in no particular order, but they get a little more specific when we get to the top couple of ones.
What Made 80s Tv Theme Songs So Great?
"…There's always something very distinct about 80s music. When you hear it, you just know."
-Jerry Shen
Alan Thicke (who you will see a few times in this list) also pointed out about 80s TV theme songs:
"back then, theme songs were more important. They were a part of every show. …  I think that's almost a lost art."
I really believe that what made 80s tv theme songs so great was they had a very light and airy approach that matched the tone of so many great 80s sitcoms. Let's be honest, except for the Full House episode when DJ passes out from exercise and the infamous "I'm So Excited" moment from Saved by the Bell, most sitcoms of the decade were not too intense.
The music also served as a quick snapshot of the musical landscape at the time. Pop music has always been big, but in the 80s, it really drived what was popular on the radio. Songs made use of electronic drums, saxophones, and synthesizers.
An interesting fact about the 80s – identified by the University Of California Press – is that a majority of pop music made use of a specific synthesizer sound. The sound in question comes from the Yamaha DX 7 Synthesizer. The preset called E. Piano 1 was featured in 61% of the #1 hits on the pop, country, and R&B Billboard charts.
You can hear a sample of this from YouTube here and here: Basically, just think Miami Vice which – spoiler alert – appears on this list…
Disclaimer: There are a few classics that you would expect to see here such as Saved by the Bell, and Family Matters, but even though those shows started around 1989, I consider them 90s shows.
O.K so now let's take a look at the 13 best 80s TV theme songs. 
13. Silver Spoons
Silver Spoons came out on September 25, 1982 and would run until May 11th, 1986. The Theme song for the show was called "Together" and was written by Rik Howard and Bob Wirth. Like many 80s tv theme songs, "Together" would go through a few different iterations over the course of the show. 
The first version was mostly guitar based and had vocals performed by Ron Dante. You might know Dante as the lead singer of the fictional band "The Archies." He was also a producer for Barry  Manilow. In 1985, SIlver Spoons would start to embrace more of the synthesizer sound taking over the 80s. They would also start using a different vocalist. For the last season, they went with a more rock-based sound and brought back Dante to sing. 
12. Miami Vice
Miami Vice definitely wasn't a sitcom, and did not make use of the light and airy sitcom theme style. Miami Vice was unique because it was like the drama version of MTV and was one of the first shows to make use of contemporary Billboard songs within the show. The theme song had a much more dramatic feel to give the show more of a cinematic appeal.
The show itself was heavily influenced by the New Wave movement and really changed the way that TV could look and sound. Another interesting musical fact about this TV theme song is they made an innovative use of stereo sound and artists were clamoring to get on the show. One snippet of your song on Miami Vice would boost sales and chart position.
The main theme was composed by Jan Hammer who is a Czech-American musician and composer. He won Grammys for the music he made for Miami Vice and the soundtrack hit #1 on Billboard on November 2, 1985 – just one season into the show. 
11. ALF
ALF was one of my favorite shows of the 80s and, to me, had one of the best 80s TV themes. It made use of heavy bass, saxophone and had that definitive sound of the decade. The show was heavily influenced by music and each episode title was named after different songs. 
Can you guess the name of the man who composed the theme song? Well, it is also Alf. This time Alf Clausen is the person behind the music. He created the Partridge Family theme song and worked as a music director on the Mary Tyler Moore Show, and Donny and Marie. He also made music for Moonlight and would then end up working on The Simpsons. 
ALF – like David Hasslhoff – was a huge hit in Germany, and the German actor who dubbed the voice of ALF spent 12 weeks at the top of the German charts with a song called "Hallo ALF Hier Ist Rhonda, " (Hello Alf, This is Rhonda) which also featured the actress who voiced Rhonda. 
I have a full blog on everything to do with ALF that you should check out here.
10. Who's The Boss
The theme song for Who's The Boss is "Brand New Life," and was written by the two people who created the series: Martin Cohan and Blake Hunter. The music was composed by Larry Carlton and Robert Kraft. Carlton played with acts like Steely Dan, and Jonie Mitchell and created the theme for Hill Street Blues.
Kraft has done tons of music work in movies like Adventures in Babysitting, The Muppets Christmas Carol, and co-produced "Under the Sea" for the Little Mermaid. 
They used three versions of this theme song over the course of the series: The first was performed by Larry Weiss (who wrote Rhinestone Cowboy), Steve Wariner (who has had a huge career in country music), and Jonathan Wolff who has produced some other iconic tv theme songs including Will and Grace, Married…With Children, and best of all, Seinfeld. 
"Brand New Life" had that light and happy style that was so synonymous with 1980s tv shows. 
9. Webster
Another one of my favorite shows and one of the best tv theme songs of the 80s. "Then Came You" is the perfect narrative song to describe the essence of what you're about to watch. Webster came out all the way back in September 1983 and ran until 1987.
The theme song was created by Steve Nelson and Madeline Sunshine who was also a writer on the show. Nelson performed the song along with Gail Lopata who also sang in My Cousin Vinny. Another one of the best 80s TV theme songs that works as a narrative for the show meaning you could jump in at any episode and be pretty much up to speed with the plot. 
8. Knight Rider
I would have Knight Rider higher on this list but, like Miami Vice, it's more of a cinematic TV theme song as opposed to an 80s sitcom theme. But this theme is still iconic. The tone and style of the show are perfectly captured in this theme song.
The Knight Rider theme was composed by Stu Phillips who also did the music for Battlestar Galactica, The Amazing Spider-Man show, The Six Million Dollar Man and also made some 50s classics such as "Johnny Angel".
Phillips would use an 18th century piece of music from the ballet called "Sylvia". This original piece was composed by Leo Delibes and was called "Cortege de Bacchus". He took this piece as the basis for the Knight Rider theme but gave it an 80s twist with more of a synthetic effect. 
Check out my blog all about what made Knight Rider an awesome show here.
7. Diff'rent Strokes
The theme song for Diff'rent Strokes has one of the most iconic TV theme songs of not just the 80s – but of all time. Simply entitled "It Takes Diff'rent Strokes," this song was composed by none other than the great Alan Thicke. You even hear him singing in it!
This song had a real catchy feel and a bit of a 70s influence. It felt like it could have existed comfortable on regular radio but worked as a great theme song. With its multiple vocalists, the song had a good upbeat energy with it's straight bass drum driving it. 
Diff'rent Strokes would branch off from straight ahead light sitcom style into their "very special episodes" which did not match the theme song at all, but the majority of the show matched it nicely. 
6. The A-Team
Another iconic TV theme song of the 80s, but, again, more in the vein of Miami Vice, and Knight Rider. But, to me, this theme song just resonates with excitement for a show that was equal parts adventure and comedy. 
The group of court marshaled outlaws, jailed for a "crime they didn't commit" ran from 1983 to 1987. The theme song was composed by Mike Post and Pete Carpenter. Post also created themes for Hill Street Blues, Magnum P.I., and Law and Order. 
The A-Team was one of a few shows featuring a full symphonic soundtrack that would be released on Vinyl by RCA Records. It's considered one of the best TV theme songs in television history and Al Roker is said to have used it to get pumped up in the morning.
Yikes – that image will be in my head for awhile…
5. Growing Pains
Growing Pains is pretty much the only show whose theme song was NOT written by Alan Thicke – even though he starred in it! Do you remember this show running into the 90s? It actually went right into 1992, despote starting back in 1985.
Our theme song here is the classic "As Long As We've Got Each Other," another family-centric, throwback style of sitcom theme song. This song went through A LOT of variations though. It was composed by John Bettis and Steve Dorff and here are some of the different singers who performed it over the seasons:
Season 1: BJ Thomas – who sang "Raindrops Keep Fallin' On My Head," along with the original version of "Hooked On A Feeling."
Season 2: BJ Thomas and Jennifer Warnes – Warnes recorded "(I've Had) The Time of my Life" from Dirty Dancing.
Season 3: Thomas and Warnes
Season 4: Thomas and now Dusty Springfield
Season 5: back to Thomas and Warnes
Season 6 and part of 7: Joe Chemay, Jim Haas, Jon Joyce, and George Merill in an acapella version
Part of season 7: Thomas and Warnes one last time. 
Basically, there were NINE different versions of the song throughout the series. They should have just let Alan Thicke record it in the first place. 
4. Family Ties
A sentimental classic, but not exactly super upbeat and energetic. Still, the Family Ties theme song "Without Us" takes you right back to the days where you would be watching with your family on Sunday nights. To me, "Without Us" had the feeling of a throwback theme harking back to the early days of TV sitcoms.
The focus of the show, and the theme song, was very family centered, traditional, and heartwarming. The song was composed by Jeff Barry and Tom Scott. Barry made some classic pop recordings such as "Doo Wah Diddy," "Da Do Run Run," "Then He Kissed Me," and "Leader of the Pack" among many others. This probably explains why "Without Us" had such a throwback feel.
Fun fact: Tom Scott was also a member of the Blues Brothers. "Without Us" was performed in the first season by Mindy Sterling and Dennis Tufano. You might not know who Mindy Sterling is, but you do – she played Frau Farbissina in Austin Powers. 
You're welcome for having your mind blown.
In all the other seasons, the theme song was performed by Deniece Williams and the great Johnny Mathis. 
3. Full House
"Everywhere You Look" is the sound of the 80s personified. The Full House theme is light, airy, and kind of euphoric. Even though I think of Full House as a 90s show, it did debut back in 1987 – so that's close enough for me for including it in the best 80s TV theme songs.
The song was partially made by series creator Jeff Franklin along with Bennet Salvay. It was performed by Jesse Frederick who you could probably consider the voice of 80s TV theme songs. Among other shows, he created themes for:
Family Matters
Step By Step
Perfect Strangers
He was also the music director on Happy Days, Mork & Mindy, and Laverne and Shirley. There were many variations of "Everywhere You Look" that were shortened just to the chorus, but seasons 1 through 5 used a longer version of the song. 
2. The Facts Of Life
"You take the good, you take the bad, you take them both and there you have, the facts of life" is no doubt going through your head all day today and probably into tomorrow. Another Alan Thicke joint, this one was performed by Gloria Loring and appeared on her album "A Shot In The Dark." If you are wondering who Loring is, she was Alan Thicke's wife. 
The Facts Of Life was technically a spin-off of Diff'rent Strokes but would end up being one of the longest-running sitcoms of the decade. This TV theme song is honestly the epitome of what a sitcom theme song should be. It's upbeat, energetic, catchy, and acts as an earworm – meaning it gets stuck in your head.
A good theme song needs to set the tone for the show you are about to see and "The Facts Of Life" perfectly captured the essence of the show. One thing that makes this song stand out is the amount of rhyming that's included in such a short time frame, and this helps lead to its energy and memorability. It's almost like a nursery rhyme making it easy to remember. It's almost the best 80s TV theme song, but I think there is one better…
1. Perfect Strangers
Not only does the Perfect Strangers TV theme song capture the true 80s sound, I always found it very uplifting and inspirational. Hearing "Nothing's Gonna Stop Me Now" as a kid always filled me with hope in some strange way.
I think the general message of the show is about hope and possibility reflected through the character of Balki Bartokomous. He is trying to make his way in America and looking for a new life and new possibilities. Larry also had his own dreams of making it in a new city after moving from Wisconsin to Chicago. 
"Nothing's Gonna Stop Me Now" perfectly captured all that. This was Jesse Frederick's first TV theme song he wrote and it perfectly told the story of the two leads of the series; Larry and Balki. It was performed by David Pomeranz who did a lot of work with the Muppets and Barry Manilow, and even opened for Rod Stweret and Billy Joel.
To me, it doesn't get better than "Nothing's Gonna Stop Me Now," and it's #1 on my list of the best 80s TV theme songs. I've got a full blog all about Perfect Stranger that you should check out here.
Wrapping It Up
TV sitcoms in the 80s had a real theme of hope and possibility to them. I'm not sure if this was ust reflective of the era as the 80s were a decade filled with hope, opportunity, and new possibilities. Besides being upbeat, these 80s theme songs also focused on the "love of the family" centric style theme. Well, maybe not Miami Vice – they were focused on a different type of love.
 Either way, these 13 best 80s TV theme songs perfectly capture the sound and tone of the era. 
And if you love 80s TV, you need to check out my blog that lists the 21 Best Tv Shows Of The 80s.