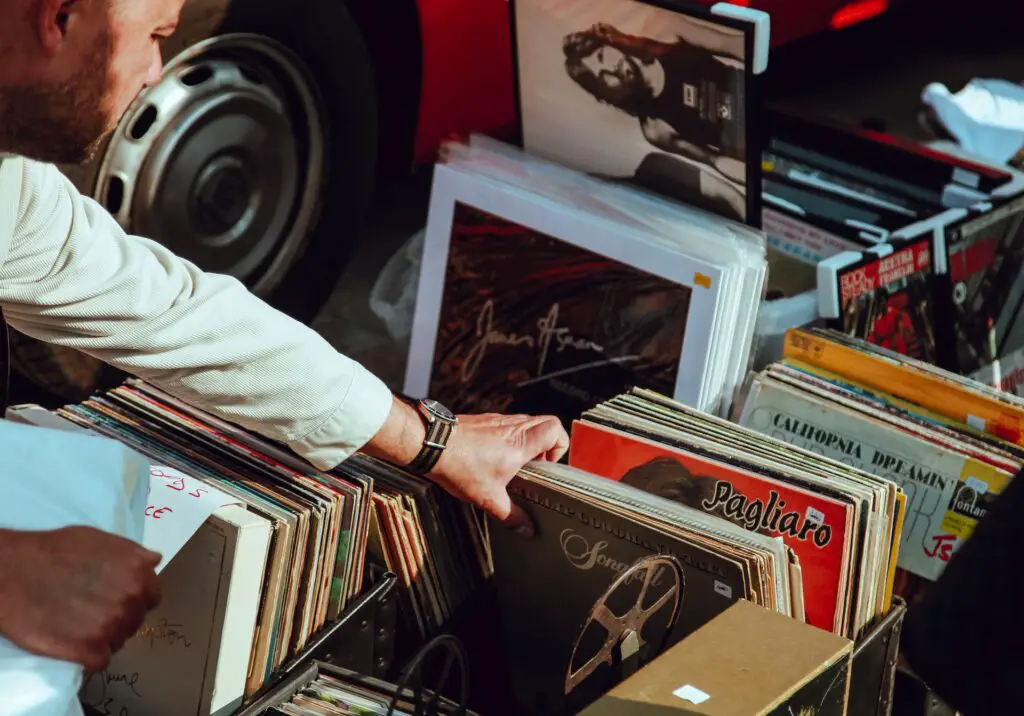 It's the early part of the 80s and a special time for music. People are still buying Vinyl albums, cassette tapes had become mainstream, and even though it would soon be phased out, the 8-track tape is still available.
The influence from the 1970s is still there, but new musical styles, bands, and artists are taking center stage. A wide range of incredible albums are being released on a weekly basis. But which ones would stand the test of time and go on to be considered classics?
On today's journey, we travel back to the year 1982 and look back on 15 classic albums that are now, somehow, 40 years old. 
If these albums were people, they'd officially be over the hill. They'd be suffering from back pain and possibly driving minivans. They would definitely have to be upping their fiber intake. But these albums came out during a changing musical landscape. And 1982 is a very unique year in music history: as this was the only time that four different physical formats existed at the same time.
I mentioned how the 8-track was being phased out, but it wasn't completely gone until 1983. Vinyl was still in the mix, and cassette tape sales were hitting their peak. But there was a new digital-physical format that seemed futuristic and would eventually take over the musical landscape: the compact Disc. it would still be years until CDs were the standard–and more affordable–but Phillips and Sony released the first commercial CD player in 1982. The first CD to be manufactured was the Visitors by ABBA, and the first true album released on CD was 52nd Street by Billy Joel–and both events took place in 1982. 
Some of your favorites may not be in this list, but these 15 albums that generally represent what was a truly incredible year for music. This list also features some of the top albums of the entire 1980s and a few of the best in music history. The theme that exists through this episode is the incredibly wide range of musical styles and artists all existing in a single year.
The early 80s were a unique time as it combined classic rock and pop, but also styles that are no longer with us, like New Wave. Then, there is the introduction of a brand new musical art form and an era where Heavy Metal is hitting heights that many didn't see as possible. 
Honorable Mentions:
Midnight Oil: 10,9,8,7,6,5,4,3,2,1
The Go-Gos: Vacation
Roxy Music: Avalon
Fleetwood Mac: Mirage
REM: Chronic Town
Culture Club: Kissing to be Clever
#15. Love Over Gold- Dire Straits
We're going to start with a bonus entry, as I admittedly only listened to this album for the first time just a few days ago. It's easy to think of Dire Straits as just the iconic song "Money for Nothing," but they have a remarkable musical legacy. It's also easy to forget that Dire Straits is British and played a role in the second British invasion, which occurred during the early 1980s.
Love Over Gold came out on September 24, 1982, and is defined by two very distinct moods. They set the tone right out of the gate with the 14-minute Telegraph Road, which reveals a very artistic side of the band. The great Mark Knopfler creates many different ones and sounds throughout the album. You may think of Dire Straits as (no pun intended) straight ahead, driving music with standout guitar licks, but Love Over Gold shows the diverse range of this band.
Single-wise, Love Over Gold features Private Investigations, which hit number 2 on the British charts, and Industrial disease, which hit number 9 on American Billboard. The album only reached number 19 in the US but hit number one in the UK, Australia, Austria, Italy, Norway, and New Zealand. Love Over Gold fittingly achieved Gold Record status, which is a half million US album sales. 
#14. Duran Duran–Rio
If you're old enough, you may remember what a sensation Duran Duran was in the early 80s. I recommend going back and reading my article about the history of MTV, but bands like Duran Duran were instrumental in its early success. As mentioned with Dire Straits, a second British invasion took place in the early 80s with bands like these leading the charge.
Thanks to the UK show Top of the Pops, British bands were more familiar with music video formats, so when MTV was launched, they capitalized on the new form of music consumption. And Duran Duran was like the Backstreet Boys, NSYNC, or New Kids on the Block of the early 80s. Crowds went crazy for them. Actually, hysteria is a more appropriate word. And when Rio was released on  May 10th, 1982, it took things to another level. Featuring hit songs such as "Hungry Like the Wolf," "Save a Prayer," and the title track, "Rio," Duran Duran pushed New Wave music to a wider audience.
Since they were so averse to the music video format–and understood how important they were for promoting an album–the band shot videos for 6 of the 9 tracks. Though it didn't hit number one on the US chart, Rio reached number 2 and stayed in the charts for an astonishing 110 weeks. They recorded the album in a studio founded by former Beatles producer, George Martin. Speaking of the Beatles, Paul McCartney would occasionally come by the studio to wish them well. Rio is one of the albums that defines the sound of the early 1980s. 
#13. Lou Reed: The Blue Mask
The influence of Lou Reed has lasted for decades. His prolific and inspiring music has inspired countless other artists. Released on February 23rd, 1982, the Blue Mask was his 11th studio album. Lou Reed was now 40 and was exploring the themes that his increasing age exposed him to.
The album explores the themes of reaching middle age, getting married, and settling down. But it goes deeper. The Blue Mask explores more intense topics such as alcoholism, paranoia, and even violence. It was a mature album for a maturing artist. But The Blue Mask still has a rock feel to it and was an enormous hit with critics. Reed has been part of The Velvet Underground since the late 1960s, and his solo career was showing his range as an artist and musician.
Some called The Blue Mask the best album of the year. But despite the great reviews–and influence he had–the Blue Mask was not exactly a commercial smash. It only reached 159 on the Billboard top 200. The highest it charted was number 15 on the French charts. If you haven't listened to much of Lou Reed, or don't know of the Blue Mask, definitely check it out. It starts with a slower, more deliberate pace, before driving up the sounds through the guitars and drums on the title track, before slowing things down again, but keeping an intensity throughout. 
#12. The Message by Grandmaster Flash and the furious 5 is 
Possibly the most important album in the history of hip hop. As the 1980s began, a new musical form was slowly speaking through the Burroughs of New York.
In the Bronx, DJs discovered that break beats–the musical portion of a song where the other instruments drop out leaving just the drums–got more people dancing. DJs like DJ Kool Herc discovered that if he took two copies of the same album and went back and forth between the breakbeats using two turntables and a crossfader, he could extend those breakbeats.
This led to longer periods of dancing and specific dancers called break dancers. The parties would grow and Djs–either on their own or using a master of ceremonies or emcee–would need to announce upcoming events or share information. But they didn't want the music to stop. Instead of talking over song lyrics, they used the break portion to make their announcements say where the next party would be, or how good the DJ was.
These moments on the mic overtop of the breakbeat turned into a showcase of bragging, which turned into rehearsed lines, which turned into rhyming–all over a consistent beat and the birth of a brand new art form. But hip hop was still a very regional movement. Until Grandmaster Flash. Also from the Bronx, Grandmaster Flash and the Furious 5 were there from the early days of hip hop. But in October 1982, their song– and album–The Message, took hip hop to a broader audience.
Not only was this a unique new art form, but The Message was a social and political commentary on the situation and environment the members found themselves in. This is not only one of the most important hip-hop albums ever, but one of the most important albums of all time. Grandmaster Flash and the Furious 5 were the first hip hop group inducted into the Rock n Roll hall of fame, and the Message was one of only 50 recordings added to the National Recording Registry chosen by the Library of Congress. 
#11. Billy Idol: Billy Idol
Another poster child of the 1980s, Billy Idol's self-named album, came out on July 16th, 1982. This may not be at the top of your list for classic albums, but it was a notable release, as it was not only liked by critics, but was a commercial success.
This album is important because–as I mentioned–Billy idol was one of those characters that represented the early part of the 80s. He had a distinctive look and sound that defined this movement in time. But let's not downplay this album by any means, the huge hit, "Dancing with myself was Idol's lead single, even though it technically came out a few years earlier when Idol was part of the punk rock band Gen X. But the single that truly represented the album may have been "Hot in the City." And then we get White Wedding, another era-defining single.
The album leads off with come on, come on, and the entire album is an interesting mix of rock, new wave, and a bit of punk. But it's all put together into a commercial-friendly formula. Fun Fact: Billy Idol actually released a Christmas Album a few years ago, and I don't hate it. 
#10. The Cure: Pornography
It's only 8 songs, and 43 minutes long, but Pornography by the Cure is one of those essential albums. And it's hard to describe. It's extreme, dark, moody, and even gothic. Released on May 3rd, this was Robert Smith at his breaking point.
After playing 200 shows and the exhaustion that came from that and his depression, Smith wanted to go out with an album where all cares were thrown away. Even the title of the album indicated that. The recording process was drug and alcohol influenced and–as is usually the case–the despair of everything makes for great art. And that's what we got with what's considered the third part of The Cure's "gloom trilogy."
The interesting thing with this album is how it can be considered the lowest point emotionally for the band, and they rebounded with more poppy, radio-friendly new wave music. And even though it was critically acclaimed when released, the legacy of the album has grown and is one of the catalysts for gothic rock. Rolling Stone barely gave it one star when it was released, but the album gained much more appreciation over time. 
#9. Judas Priest: Screaming for Vengeance
Were the early 80s a golden era for heavy metal? If it wasn't, it was definitely a defining one. Bands like Motorhead, Black Sabbath, Iron Maiden, and Judas Priest were pushing the boundaries of what heavy metal could sound like.
We are now only a year away from Kill 'em All by Metallica, but this point in the 80s was an interesting one. Heavy metal bands were breaking through at the same time that hair metal, or glam metal, was emerging. It was an interesting dichotomy between how this deadly serious heavy metal almost seemed as if it was being parodied by hair metal bands. But right in the mix of all this was Judas Priest and their album Screaming for Vengeance.
Released on July 8th, Screaming For Vengeance was already their 8th studio album. This is a unique album as one of the top songs, You've Got Another Thing Comming, was getting heavy radio play. Heavy metal was becoming mainstream and this album went double platinum in the US. Judas Priest was unique as heavy metal was a niche genre, but they managed to get commercial success. 
I've been listening back to all the albums on this list and I honestly think this is my favorite. And I'm not even the biggest metal guy. Epic is the best way to describe screaming for vengeance. At its core, this really just is straight-up rock n roll. 
#8. Rush: Signals
I have to include some Canadian content here and that means Rush. The Holy Trinity released Signals on September 9th, and, coincidentally, it was their ninth studio album. Signals was a bit of a departure from their original sound as the band was experimenting with more electronic sounds. Signals included the use of sequencers and synthesizers to enhance the band's musicianship.
This is one of the amazing things about Rush: it was only three people creating their sounds. Yes, there are always enhancements to recordings and live performances, but at its core, Rush was just a guitar and base layered over Neil Peart's astonishing drum arrangements. There's always a debate on the greatest drummers of all time, but the late, great Neil Peart is always in the conversation.
This may be the most Canadian thing I could possibly say, but if you want to see something unique, look up the video of Neil Peart arranging and drumming to the Hockey Night in Canada theme song.
But The Signals album was a way to build on those existing sounds. Some of the notable tracks include subdivisions, Countdowns, and New World Man. Signals, of course, hit number 1 in Canada but was top ten in the US selling a million copies, and even hit number three in the UK. 
#7. Elvis Costello: Imperial Bedroom
Released on July 2nd, Imperial Bedroom by Elvis Costello and the Attractions was his seventh studio album. This album was engineered by famous Beatles engineer, Geoff Emerick. Costello's sound and songwriting had matured, and there's quite a lot of range on Imperial Bedroom. Each track has a unique sound to it.
I love Almost Blue which has a Jazzy, Chet Baker feel to it. But Imperial Bedroom is unique because it has hints of New Wave, Rock, and pop. It's another of those albums that doesn't seem defined by its era and could have come out in 2005 as easily as 1982. This is probably why it was such a big hit with critics. It doesn't feel the need to follow whatever musical trends were happening but exists on its own accord. Basically, it's hard to identify that it's the early 80s when you listen to it. Yes, there is some New Wave to it, but it's Costello's approach to New Wave.
This album also features Baroque pop to give you even more of an idea of how diverse the music is. As tends to be the case, albums that are adored by critics are not always commercial successes. Imperial Bedroom got to number 6 in the UK, but only number 30 in the US, with no songs cracking the top 50. My favorites are The Loved Ones and Pigdin English.
Elvis Costello is entirely unique, and I hate comparing artists, but if we had to make some similarities, you may get influences of Bob Dylan, David Bowie, and Billy Joel. And if you even remotely like the Beatles, I think you may really enjoy Imperial Bedroom.
Speaking of English artists (that seem to dominate all music) another artist would release her fourth studio album. She had established herself in the early 80s, and thanks to a Netflix show, would continue to be relevant nearly 40 years later. 
#6. Kate Bush: The Dreaming
Kate Bush has once again entered the pop culture landscape. After the success of Stranger Things season 4, her song "Running Up That Hill," once again entered the billboard charts landing in the top 3. But that song came from 1985, today we're back in 1982 with her album: The Dreaming.
The Dreaming was her 4th studio album and was released on September 13th. The dreaming took two years to record, and she produced the entire thing herself. This isn't her most commercial work but is truly unique and artistic. Some singles include The Dreaming, There Goes a Tenner, and Sat in Your Lap. There are a lot of unique instruments on the Dreaming, including vocal loops and digital sampling synthesizers. This experimental approach didn't make it as consumable, and it only reached number three on the UK charts staying there for just ten weeks, and would be her lowest-selling album. Fun fact: Part of this album was recorded at the legendary Abbey Road.
It's great to see a new generation discovering what a–dare I say–underrated and incredible artist Kate Bush is. If you're just discovering her, The Dreaming is a definite listen. 
#5. The Clash: Combat Rock
Another British band that dominated North America, the Clash, released Combat Rock on May 14th, 1982. And this was the last album to feature the original lineup. This is a straight-up rock album with driving beats and guitar riffs. But it's also pretty bizarre, which leads to its appeal.
Combat Rock, of course, features one of the greatest songs ever with "Should I Stay or Should I Go." It's again the simplicity of the riff and driving beat that makes this such an iconic song. It's a song that could be released in multiple eras and decades and fit in comfortably. But this album is more than just one notable track. Don't forget, this album also featured Rock the Casbah.
Along with those two iconic songs, Combat Rock also features Know Your Rights. The Clash wasn't as glossy and glitzy as their fellow country compatriots like Duran Duran and The Culture Club but was still an instrumental part of the early success of MTV. Rock the Casbah was in regular, and heavy rotation on the new all-music station. The interesting thing with COmbat Rock is how Should I stay or Should I go actually took a back seat, to Rock the Casbah, but grew bigger with future re-releases.
Things were starting to fall apart within the group, but Combat Rock represents their best-selling album as it went double platinum. Some Clash fans saw this album as being too commercial (whatever that really means) but they knew how to create radio-friendly songs, and in a new era of music presentation: video-friendly songs. 
#4. The Number of the Beast: Iron Maiden
I've been on a huge Iron Maiden kick the exact year that their album, The Number of the Beast turned 40. The band and fanbase that scared the crap out of me as a kid is nothing more than a brilliant rock' n roll band, and The Number of the Beast is what I believe is their very best album.
Released on March 22nd, 1982, The Number of the Beast is a driving, heavy, and iconic album. It was the first to feature new vocalist Bruce Dickinson and the last with drummer Clive Burr. One thing that makes Number of the Beast so unique is its commercial success. Iron Maiden regularly received critical success, but their type of music was not exactly "radio friendly." Despite this, it made the top 40 in the US and gave them a top ten hit in the UK with"Run For the Hills."
A bit of controversy may have also helped give this album more attention. People questioned some of the religious lyrics and the album artwork seemed overly intense. Even if I was brave enough to have bought this album, my mom would have killed me when she saw the cover. We're reaching the era of satanic panic and bands like Iron Maiden–along with the popularity of Dungeons and Dragons–were creating nationwide fear. I have an episode all about this hysteria in my previous episodes.
Some considered the members of Iron Maiden to be Satanists, but they were just a bunch of blokes from the UK who created a soaring, powerful, epic, and incredibly creative album that has sold nearly 20 million copies. Guitar World considered the Number of the Beast the number one guitar rock album of 1982. Their musical arrangements, skill, and execution make Iron Maiden one of the greatest rock groups ever.  
#3. Prince: 1999
Did the song 1999 get the most plays ever in the leadup to the year 2000? It's hard to believe that 1999 by Prince came out all the way back in 1982. This album showed how versatile the soon-to-be artist formally known as prince really is.
Released in October, Prince handles most of the production and recording of the album, with members of the Revolution used sparingly. 1999 did pretty well, too, as it hit number 9 on Billboard's top LPs and Tapes charts. Kids, you'll have to ask your parents what LPs and tapes are. Besides the title track, 1999 features hits like Little Red Corvette, and the album was certified 4 times platinum just in the US, indicating sales of 4 million units. 
#2. Bruce Springsteen: Nebraska
Is Bruce Springsteen the hardest working person in rock n roll? The stories of his studio recording process are legendary and he would often spend an entire week just trying to get the ideal drum sounds. But his album, Nebraska is a pretty bare-bones, stripped-down album.
It's a lot of guitar and harmonicas. Springsteen originally recorded the songs as demos on a 4-track recorder. He intended to turn them into full recordings with the E-street band, but just released them straight up. It's said they tried to recreate them in the studio but just couldn't capture the tone and mood laid down on the 4-track recorder. And with that, he created a very raw, dark, and powerful album.
The themes of Nebraska deal with murder, violence, and youth. This isn't the upbeat Springstein you may be familiar with and we could almost consider Nebraska a folk album? Nebraska was released on September 30th, 1982, and what's interesting is how this album would go on to influence the song–and the album–Born in the USA. Springstein actually created the Born in the USA song in May of 82 right while he was recording this album, but that wouldn't be released until 1984.
Some standout songs include Atlantic City, Open All Night, and Johnny99, which was actually covered by the legendary Johnny Cash. To me, Nebraska is moody but definitely compelling. It's hard not to think of Bob Dylan when you listen to it, but Springsteins' distinct voice still gives Nebraska a quiet power and a specific tone. 
#1. Thriller
Is Thriller the biggest album of all time? Possibly, it really depends on who you ask. At the very least, it's one of the biggest game changers ever and appears in pretty much every top 10 list out there. At the very, very least, Thriller is possibly the best-selling album of all time.
Some figures say it sold over 50 million copies. Others say it was closer to 70 million. If you go to bestsellingalbums.org, which is the global archive of album sales, charts, and industry statistics, Thriller stands out at number one with 66 million units sold. Regardless of what the actual album sales may be, when it was released on October 30th, 1982, Thriller took the world by storm and continues to be an astonishing piece of work 40 years later.
And Michael Jackson almost scrapped the whole thing.
News of the World quoted Jackson as being extremely upset with Thriller. The mixes weren't where he wanted them to be, and he reportedly cried when he heard the first version. He was so unhappy but forced himself to go back in to nail the songs. The same thing almost happened with the iconic–and groundbreaking–video for Thriller, which was almost called starlight or Starlight Love and was actually released after Halloween.
The Thriller video, along with Billie Jean and Beat it, helped turn music videos into a legit art form. The discussion of Michael Jackson has become more problematic these days, but the story of the Thriller album is as much the story of producer Quincy Jones. If there's no Quincy Jones, there's no Thriller. The album started with 30 tracks and was whittled down to a very lean 9 songs. And it's one of the best song lineups of all time: Look what we have:
Wanna be starting something
Baby be Mine
The Girl is Mine
Thriller
Beat It
Billie Jean
Human Nature
Pretty Young Thing
The Lady in My Life
That Thriller, Beat It, Billie Jean, stretch is one of the most remarkable three-song combos in music history. We could talk all day about this album, but the best way to summarize this thing is by looking at some of the astonishing stats.
Thriller had 6 number 1 hits
7 of the 9 songs reached the top ten, setting a record for most top-ten hits from an album
Thriller quickly became the best-selling album ever selling 32 million copies by the end of 1983
It was the best-selling album for two years, becoming the first to ever do so
It won a record-breaking 8 Grammy Awards
Thriller spent 37 non-consecutive weeks at number 1
At its peak, Thriller was selling 1 million albums per week
And possibly the most amazing stat, and fact of the podcast: as of right now, Thriller has spent 539 weeks on the Billboard top 200, and IS STILL IN THERE. I actually didn't believe this but When I looked this morning, Thriller is listed at #117, 40 years after it came out. 
Final Thoughts
1982 was a truly breathtaking year for music. There's so much more that we could cover, but here are just some of the other artists that released albums this year:
Janet Jackson
The Who
Blondie
Alice Cooper
Billie Joel
KISS
Sly and the Family Stone
Paul McCartney
Phil Collins
INXS
Hall and Oates
Huey Lewis and the News
Bad Religion
Talking Heads
Willie Nelson
Sonic Youth
Cher
George Harrison
Jefferson Starship
Elton John
Joni Mitchell
They may have not put out classics, but the fact so many incredible artists were all creating at the same time in 1982 is astounding.