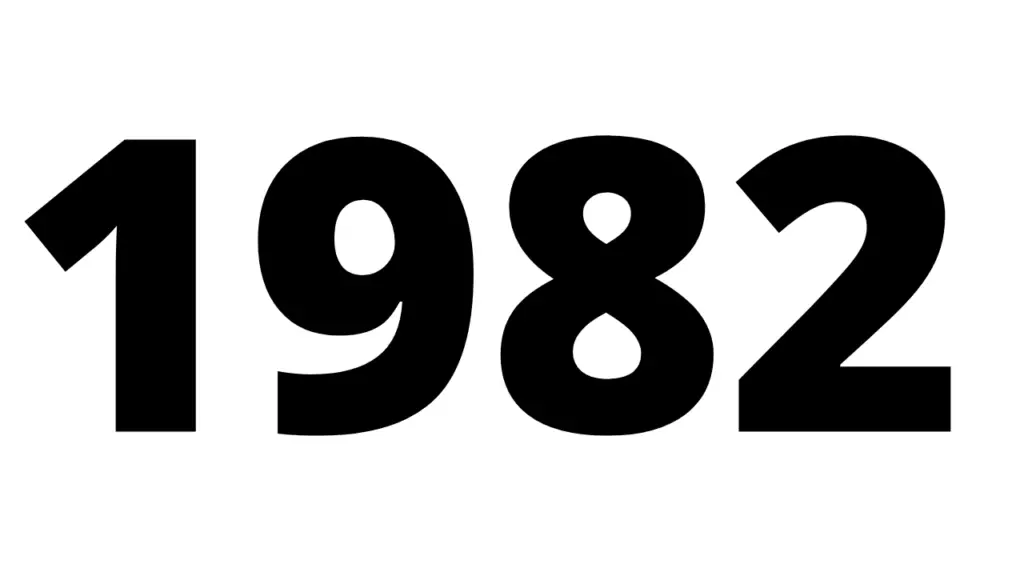 The decade is beginning to hum along as we look back at the year 1982. The 1980s are slowly taking shape, but they still have some remnants of the 1970s. That's the thing with the start of a new decade: it's as much about the previous one as it is the start of a new one.
The early 90s are remembered as being a definitive decade, but that's because they are a carry-over from the 80s. The colors, styles, and attitudes still remain. It takes a while for a new decade to find its footing, but 1982 is slowly starting to show the signs of what would make the 80s so definitive.
But before we look back at 1982, make sure you read my review all about 1980, and then my look back at 1981. 
There is still a bit of that turmoil that has carried over from the 70s, but we're going to look back at some of the notable moments in 1982 as they related to pop culture.
Some Other Notable Moments From 1982
I obviously can't cover everything from 1982, and this is more of a focus on the movies, TV shows, sports, and music that made up this year. But here is a quick recap of some of the notable world events that happened:
1982 was the start of the Falkland Islands War, which was reignited in an episode of Top Gear by Jeremy Clarkson years later
The Tony Award for best play went to "The Life and Adventures of Nicholas Nickleby"
The cost of a gallon of gas was 91 cents
A loaf of bread cost 50 cents, and the average monthly rent was $320
AT&T was forced to break up after having a monopoly for so long
Here in Canada, we signed the Proclamation of the Constitution Act to have full sovereignty and independence from Britain
The first issue of USA Today is published
Disney opens EPCOT
Some Notable Movies From 1982
We're slowly entering the era of the blockbuster. 1980 was a monumental year as it gave us both the Shining and The Empire Strikes Back. If you want to see my ranking of what was the best summer for movies during the 80s, check the article out here.
But 1982 has some astounding movies. Some of the best of all time, but amongst all those greats, one film stood out among them all: E.T. 
E.T. wasn't the first blockbuster—that honor goes to Jaws and Star Wars, but it was the next big thing. The thing with E.T. is it appealed to everyone. Jaws wasn't for kids, Star Wars was more for kids—but E.T. was for everyone combined.
It's also a simple tale. The premise of E.T. is all about the fear of separation and has its roots in the divorce of Steven Spielberg's parents. But ultimately, it's that you will always be OK. 
And E.T. became a box office juggernaut. Jaws was the highest-grossing film of all time, but for only a few years until Star Wars took hold. It held the title for only another few years until E.T. took over. And then E.T. held it for nearly a decade.
It wouldn't be until another Spielberg entry—Jurassic Park—that E.T. would be dethroned as the all-time box office champ. 
So that's the big one, but let's look at a few more notable movies from 1982.
Bladerunner
The more time passes, the more astonishing Blade Runner becomes. To think that this movie was made back as far as 1982 boggles the mind. I own it on Blu-ray and it looks like it was made 5 years ago. There's barely anything that dates this movie.
Made by the great Ridley Scott, Bladerunner is set in a dystopian future and influenced a generation of filmmakers. Not only the tone and themes of the movie, but the look of it, too, has also become a major influence.
Like many other classics, Bladerunner didn't do great when it was first released. Even though it starred the super hot Harrison Ford fresh off of the Empire Strikes Back and Indiana Jones, it had a hard time connecting with audiences.
It would find its audience on the emerging home video market and soon become a cult classic. If you haven't seen Bladerunner in a while: definitely go and watch it again. 
But it wasn't all Bladerunner and E.T.; here are some other notable movies from 1982:
Looking at that year's Oscars: it was all about "On Golden Pond." Here are a few of the top winners:
Best Picture: Chariots of Fire
Best Actor: Henry Fonda for On Golden Pond
Best Actress: Katharine Hepburn for On Golden Pond
Best Director: Warren Beatty for REDS (I had never heard of it either)
The Best Music of 1982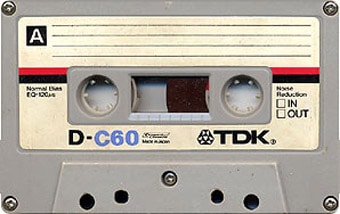 1982 is about one thing, and one thing only: Thriller. Arguably the greatest album in human history was released during this year, and it changed the landscape of music forever. It's astonishing to look back on how incredible this album is.
Anything to do with Michael Jackson has become more problematic now, but this album is as much about the brilliance of Quincy Jones as it is with the incredible talent of Michael Jackson. 
This album astonished everyone. If you haven't listened to this album in a while, please go and check it out again. Not only is it monumental, but it's also just the ordering of the tracks that come at you with a relentlessness of iconicness:
Wanna be Startin' Somethin
Baby be Mine
The Girl is Mine
Thriller
Beat It
Billie Jean
Human Nature
P.Y.T. (Pretty Young Thing)
The Lady in My Life
That 4th, 5th, and 6th track ordering left people speechless, and this album pushed the boundaries of what music could be. Not only that, Thriller, the song—and the subsequent video—also pushed the boundaries of what music and entertainment could be. 
The Thriller video helped push the newly launched MTV to another level. Here is my article that has some more about the creation of this hugely important channel. 
So, everything else that came out in 1982 was playing serious second fiddle to Thriller. But there were, of course, a lot of stand out albums and hits. There is still a wide range of genres and the sound of the 80s hasn't really been established yet. 
The number one song of the year was "Eye of the Tiger" by Survivor. This was followed by "Down Under" by Men at Work, and then "I Love Rock n Roll" by Joan Jett. The single that spent the most weeks at number one was "Come on Eileen " by Dexys Midnight Runners (you haven't heard the last of them!).
Here are the top-selling albums for 1982:
So here's the thing: Thriller didn't come out until late in 1982, so these were the albums that were the actual bestsellers to that point:
For Those About to Rock We Salute You — AC/DC
4 — Foreigner
Freeze Frame — The J. Geils Band
Beauty and the Beat —Go-Gos
Asia — Asia
Tug of War — Paul McCartney
Mirage — Fleetwood Mac
American Fool — John Cougar
Business as Usual — Men at Work
The Video Games and Technology of 1982
Home video games—for the time being—are probably at their peak. Atari is still ruling the roost (spoiler alert: this would not last long) and arcade games are still a powerful form of entertainment.
But at this point, most people had an Atari in their home. 1982 gave us some of the best video games of all time, and some specific ones that were at the core of Ready Player One. Some of the top games that year include:
Pitfall
Donkey Kong Jr.
Joust
Dig Dug
Pole Position
Jungle Hunt
And then there was the next great video game character after Pac-Man: Q*bert. Q*bert was great because it was part action game and part puzzle. The other astonishing thing was this game appeared to be in 3-D. It was, of course, just a 2-D game, but the use of isometric graphics gave it that three-dimensional look.
This was a big deal for me and my friends in 1982. It was an enormous hit in the arcades and is a big part of that golden age of arcade games. Q*bert is also unique as it was one of the few games praised both critically while still being a commercial success.
So the video game industry was on top of the world in 1982, but oh how things would come crashing down just a year later…
The Compact Disc
Another creation whose origins go back much further than you may realize. The Compact Disc seemed like some form of sorcery. How could you play music with a laser? We only had records, tapes, and 8-tracks that all used a physical format to be played. 
The "C.D." seemed like something out of Star Wars. 
The interesting thing was that the LaserDisc had already been around since 1978 but just hadn't caught on as a mainstream device. Sony was the pioneer for the first commercial CD player and launched this futuristic device with a futuristic commercial involving a robot:
But like any new technology: these things were NOT cheap at first. A CD player in 1982 would set you back a cool grand. Converted for today, that's about $2,800. The other issue was that a CD costs twice as much as a record.
Fun Fact: the very first CD released was "52nd Street" by Billy Joel. 
The Important TV Shows of 1982
TV was still the pinnacle of entertainment in 1982 and would be for the entire decade. We're still at the point where there were only three networks, and TV shows were treated like major events.
You dare not miss a major TV moment because there was no chance to watch it back. The VCR was available but was still pretty expensive, and most homes didn't have one. If you missed a big TV show, you were pretty much screwed the next day when everyone was talking about it. 
1982 is also significant, as some of the biggest shows of the decade—and of all time—debuted this year. Here's a look at a few of the standouts. 
Cheers
Newhart
Family Ties
Knight Rider (read my article all about Knight Rider here)
Silver Spoons
St. Elsewhere
T.J. Hooker
Late Night with David Letterman
Now, let's take a look at the top 10 highest-rated shows of 1982:
60 Minutes – 25.5 rating share
Dallas – 24.6
M.A.S.H and Magnum P.I. tied – 22.6
      5.   Dynasty – 22.4
      6.   Three's Company – 21.2
      7.   Simon & Simon – 21.0
      8.   Falcon Crest – 20.7
      9.   The Love Boat – 20.3
     10.  A tie between the A-Team and Monday Night Football – 20.1
Major Sporting Events of 1982
The big event of 1982 was the World Cup. It was held in Spain where Italy would beat what was then West Germany 3-1 to secure their third world title. 
To me, 1982 seemed to be a year all about tennis. This was the heart of the Martina Navratilova/Chris Evert rivalry. They dominated the tennis world, and each won two Grand Slams that year. This was also the year that another dominant female tennis player would debut: Steffi Graf. 
The other notable tennis moment—and sporting moment—was the retirement of Bjorn Borg. This came out of nowhere, and at only age 26—the tennis great hung them up. What's crazy is that he had already won 11 Grand Slams. There is no doubt that if he had kept going, he would have set a record that would probably be unbeatable. 
Here are a few more sporting highlights:
Craig Stadler won the Masters (here's something interesting: Stadler was the tour money leader with $440,000 won. Today, that's what 5th place at the Masters pays out.)
Tom Watson won the US Open and the British Open
Jimmy Connors and Navratilova won Wimbledon
Cal Ripken plays his very first game of what would be a record-breaking game streak
The Commonwealth Games was held in Brisbane, Australia
The Clemson Tigers were the NCAA football championships
Larry Holmes defeats Gerry Cooney to win the WBC Heavyweight championship
Bernard Hinault wins the Tour de France
Here's a look at the winners of the big four North American sports:
MLB: St. Louis Cardinals
NBA: L.A. Lakers
NHL: New York Islanders 
NFL: The San Francisco 49ers
Wrapping it Up
So that's a look back at the year 1982. This was actually a pretty good year—especially when it comes to pop culture. It gave us some of the most iconic movies, TV shows, and music of not just the decade: but of all time.
I feel that in 1982, we finally dusted off a lot of the 70s hangover that was infiltrating the decade. The tone was starting to be set, and 1982 was an exceptional year to introduce so many of the things that we love about the 80s. 
Since you made it this far, why not keep going and check out my review of 1983, 1984, 1985, 1986, and 1987?