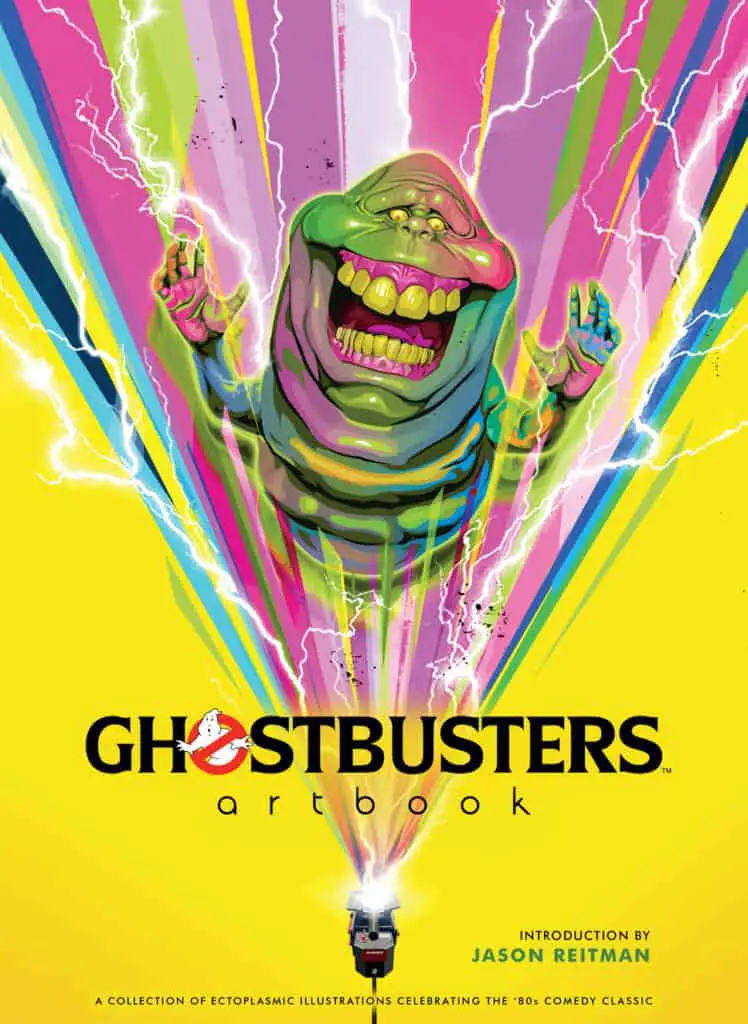 This is my review of the beautiful new Ghostbusters: Artbook released by Insight Editions in conjunction with Sony Pictures Consumer Products and brought to life by Printed In Blood.
This stunning book is an artistic love letter to one of the greatest 80s – and all-time – movies; Ghostbusters. 
In this review, we'll take a look back at the iconic movie, look at what this artbook is all about, and the people that brought it to us.
A Quick Ghostbusters Recap
What more can we say about Ghostbusters that hasn't already been said? It's one of the definitive movies of the 80s which is really saying something when you consider the number of classic blockbusters that were released.
Ghostbusters came out on June 8th, 1984 and was an immediate critical and commercial hit. It told the story of a group of scientists exploring the paranormal. They form the "ghostbusters" which investigates the paranormal and then eliminates them. As paranormal activity starts to increase across New York City, their services become in higher demand. This culminates with them having to save the city – and the world – from an open gate to another dimension.
Ghostbusters featured an all-star cast including the great Bill Murray, Harold Ramis, Dan Aykroyd, Sigourney Weaver, Rick Moranis, Ernie Hudson, and Annie Potts. Here are a few fun facts about Ghostbusters:
Ghostbusters was inspired because of Dan Aykroyd's love of the paranormal
Slimer took 6 months to design and cost upwards of $300,000. He was never specifically called Slimer in the movie but got that name after the Real Ghostbusters cartoon show
It came out on a huge weekend alongside Gremlins and during the third week of Indiana Jones and the Temple of Doom
It made over $295 million which converted for today is $732,000,000. 1984 was also a huge year for movies and Ghostbusters was one of four that made over 100 million for the first time in history 
What is the Ghostbusters: Artbook?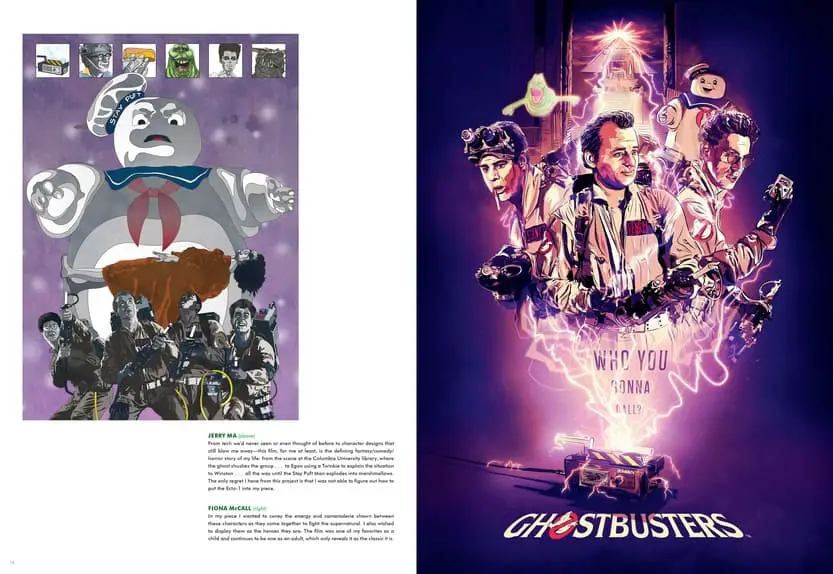 So as I mentioned, this artbook is like taking Ghostbusters – and the 80s – and placing it right on your coffee table. The book is a fully illustrated tribute and celebration of the iconic film franchise. It features hundreds of unique art pieces commissioned from all over the world.
It's a large hardcover artbook that fits into any art, pop culture, or movie lover's collection. It's 208 pages that bring together some amazing artists that come from many different worlds including animation, comics, fine art, graphic design, and many other styles of creation.
Each artist is a huge Ghostbusters fan and contributes their artistic interpretation of the movie with some truly stunning art.
Who is The Ghostbusters: Artbook Made By?
Printed in Blood packaged and printed the artbook and they are an amazing company that curates the best art related to pop culture. They take their mutual love of all things horror, art & design, and then find some of the best artistic talents in the world to create the things you can own for yourself.
They bring us amazing artwork based on a wide variety of movies including classic, cult and popular sci-fi, horror, and action films. They are dedicated to art whether it be in book form or posters you can hang in your own house. Some of my other favorite works of theirs are their Stranger Things: Artbook, and their poster prints of Back to the Future, and Alien.
Insight Editions is a publisher of unique, and innovative books and collectibles. They focus on projects that are groundbreaking in terms of creativity, design, and production. The Ghostbusters: Artbook is truly that. Some other unique things they offer is a Star Wars: Galaxy's Edge Cookbook, a Labyrinth hardcover ruled journal and a ton of amazing Harry Potter-related products.
Why The Ghostbusters: Artbook Is So Great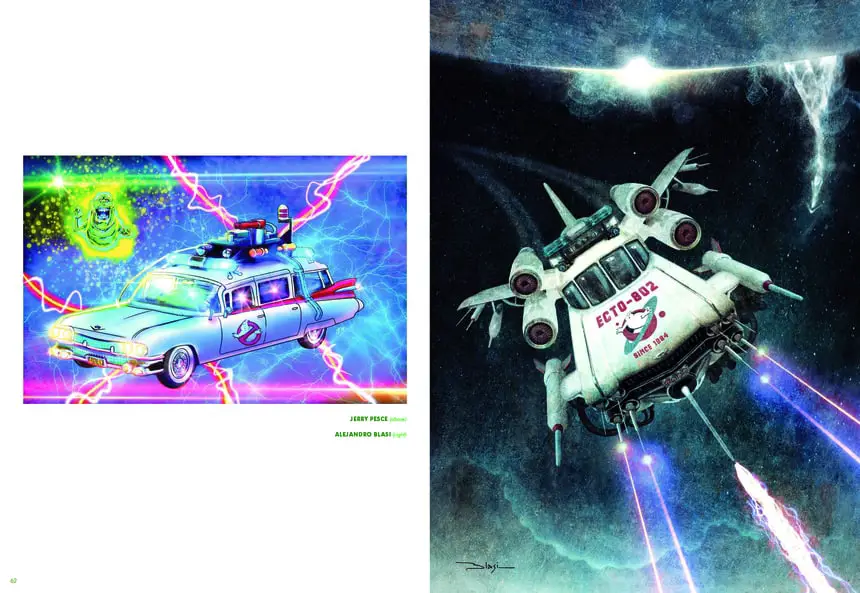 This artbook makes you appreciate the monumental film even more. It's pure pop culture and nostaligia on every page, and I love seeing all these amazing artist's different takes on the movie. It's divided into sections devoted to specific characters, New York City, and even some movie posters.
My favorite sections include the movie posters portion, and the sections devoted to Slimer, the Stay Puft Marshmallow Man, and the entire group of the Ghostbusters. Throughout the book, we get some commentary by the various artists about what Ghostbusters means to them, and how it influenced their life and their art.
One of my favorite entries comes from Angel Trancon who said:
"Ghostbusters hooked my imagination as a child from the first moment. Love at first sight! The original soundtrack, the score, the special effects, the history – all mixed with the 80s flavor has kept me hooked until now, And now as an adult, I can return to that through my art."
Every page of this book looks good enough to take out and display on your wall, but having all of this together in one stunning artbook makes it the ultimate collection. 
Wrapping It Up 
The Ghostbusters: Artbook is the 80s in a coffee table book – but still serves as a real collection of art. You wouldn't even necessarily have to be a Ghostbusters fan to appreciate the wide range of art and creativity displayed on every page of this book.
Even if you remotely love Ghostbusters, this is a book you should check out. If you are a die-hard Ghostbusters fan, then the Ghostbusters: Artbook will be a no-brainer decision to pick up.
You can preorder it here on Amazon: Ghostbusters: Artbook
Interest in Ghostbusters is at an all-time high and with the coming Ghostbusters: Afterlife film, and books like this, it's a great time to be a fan. 
But, just remember: Don't cross the streams…