It was a car that was ahead of its time. A forward-thinking but eccentric man designed it, it had a meteoric rise – and crashed just as fast before becoming an iconic part of film history.
John Z. DeLorean created the Delorean to be a sports car for the masses. It featured some unique traits including gull-wing doors and a stainless steel body, but pushing it out too fast in 1981 led to delays, performance issues, and killed the car until it was featured in Back to the Future in 1985.
Don't worry, we'll get to Back to the Future – but just not yet.
First, we've got a lot of interesting story to cover before that. The tale of the Delorean is as much about the meteoric rise of its creator before his fall from grace. The car itself started out ok, but then had a rapid crash. But thanks to a certain movie, it would live on forever.
It's a story that features ingenuity, passion, government involvement, drug trafficking, and a desire to innovate
This is the story of John Z. DeLorean and one of the greatest and most iconic cars in history: the Delorean.
Who Was John Z. DeLorean?
Honestly, this man is like taking Elon Musk, Tony Stark, and Steve Jobs and throwing them into a blender. He had the playboy persona of Tony Stark, the ingenuity of Elon Musk, and a Jobs-like fixation on the tiniest of details.
He grew up in the heart of the automotive industry, Detroit, Michigan. He had a rough upbringing in the 1920s but was able to make something of himself when it came to education and landed a college scholarship. He spent some time in the army and then rose quickly with the Packard company where he was head of research and development despite only being in his early 30s.
He would end up working for the Pontiac car company and helped to design one of the greatest cars ever: the Pontiac GTO. He would also work for Chevrolet, before becoming a corporate member of General Motors. He was almost at the level of president of GMC before deciding he wanted to branch out on his own.
You may notice how the DMC logo on the Delorean always looked similar to GMC – which was either a tribute or a bit of a dig at them.
When it comes to the Tony Stark side of John DeLorean, he had a Hollywood look about him, extreme charisma, and wore flashier suits compared to the stuffy nature of the corporate car world. He schmoozed with the rich and famous, dated supermodels, and ended up marrying one.
But instead of working for other people, he wanted to be his own boss, and leave his own legacy when it came to cars. Just as Elon Musk would do decades later, John DeLorean would branch out and take the enormous risk of starting his own car company. Just like Musk, he immediately went to work on what would be their flagship vehicle: A two-seater sports car.
Starting The DeLorean Motor Company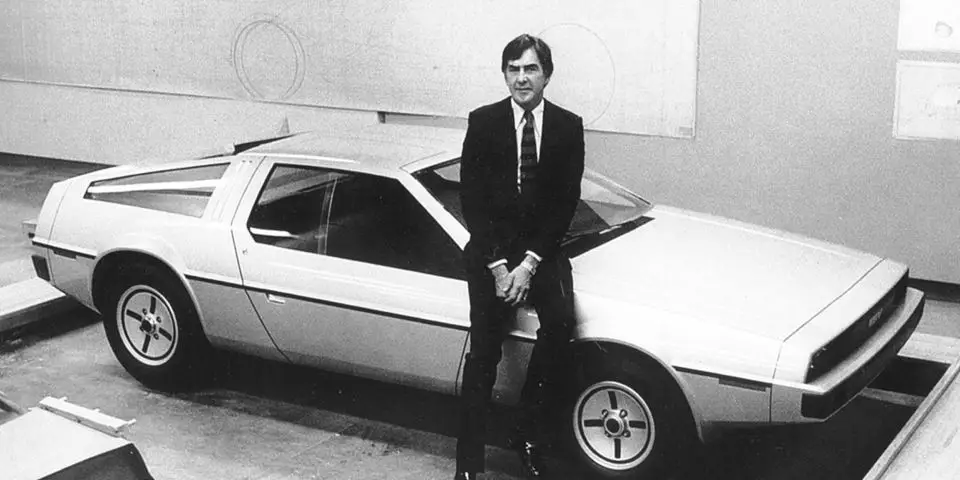 The DMC was really like the Tesla of the day, and with word spreading of his new car company starting, Delorean was able to recruit the best of the best in the world of cars. Everyone wanted to work for him and challenge the status quo of the automatic world. Those 'best of the best' were also bringing along their proteges, and these proteges are the ones that now run the global automotive industry.
Despite being gone for more than 30 years, much of what is happening in the world of cars today is because of the people who worked for Delorean.
The company was officially founded in 1975 and he raised the money through some of his celebrity friends including Johnny Carson, and Sammy Davis Jr. Delorean, however, was thinking that getting a factory up and running could be assisted by a government. Despite being based in Detroit for most of his life, Delorean would end up negotiating with different countries around the world to produce his car.
Puerto Rico was in the running for a while before he decided on Northern Ireland — specifically Belfast. This also allowed him to get a majority of the funding from the government as opposed to their own capital.
Putting The Delorean Together
The goal of the company was to create a high-end car that would take on the likes of BMW. The design of the Delorean goes back to 1974 and John DeLorean had only four specific requirements:
It must have gull-wing doors
A mid-range engine
Room for a larger than average person (John DeLorean was over 6 foot)
And it must be made of stainless steel with no paint
Why these specifics – specifically the stainless steel and gull-wing doors? In Delorean's mind, he knew that to be a brand new car, it had to have some unorthodox features that made it stand out.
Due to his Steve Jobs-like fixation on the quality of the product, and how every aspect must be flawless, the process of developing the Delorean was a drawn-out ordeal. He stated that,
"Poor quality threatens to destroy us. Every defect, each recall, only diminishes the credibility of whatever amount of advertising we do."
The car needed to be perfect.
Creating a custom engine became very difficult, and they had to use an alternative that was also being used by companies like Volvo. This engine would have to be placed at the rear of the car, which would compromise its handling.
They wanted to get this car out as quickly as possible, which meant they did cut corners. Since things were taking too long with the chassis, they went with one used on a Lotus Esprit. This would influence some of the stylings and if you've ever looked at a Lotus Esprit, you probably notice how similar it looks to a Delorean.
There had been a large amount of unemployment in Ireland going into 1979, and a majority of those who worked on the Delorean(now officially called the DMC-12, as the company wanted to sell it for $12,000) had never had a job before — let alone manufactured cars. This obviously leads to quality control issues, not to mention a massive amount of delays.
Unlike Elon Musk who would sleep in his factory while ensuring the survival of the early Tesla's, Delorean would spend most of his time in New York trying to work with dealers and spread the word of his new car.
The UK government was told that production would start in May 1980, and would have 30,000 ready to go in 1981. But it would take until December, until production began, and the first car didn't come off the lot until January 1981.
Delorean Fun Facts:
Since John D was trying to go head to head with General Motors, he had an entire range of Delorean cars envisioned. Some design models were made including a four-door model, an SUV/jeep type creation, even a bus. Again, similar to the approach that Elon Musk is making with Tesla. And we all have to admit how one of the first thoughts when seeing the Cyber Truck was that it looked like a Delorean.
Here are a few other interesting Delorean facts:
The gull-wing doors caused some issues with windows, and they had to install a "toll booth window" that took up a smaller portion of the overall window.
The doors themselves were made by technology used by the defense industry
The best way to clean the stainless steel exterior was with gasoline
They located the gas filler cap on the hood with the first versions of the Delorean. This was thought to look ugly, so subsequent editions would put it under the good, meaning you had to lift up the hood anytime you needed to fuel up.
It was actually advanced when it came to environmental issues. It was seen as being the "ethical sports car" in that it was ecologically sustainable. It would be better on gas and last a lot longer than regular cars.
Marketing the Delorean: 'Live the Dream, Today'
The specific looks of the car were a key part of the marketing process for it. The first time the Delorean was shown to the public was the Belfast auto show in 1981 – and people went crazy for it. It looked like something from the future and every camera and member of the press at the event was focused on it.
This was the goal of John DeLorean; make something unique and it should be able to sell itself. This response continued throughout all of 1981 anytime it was displayed.
But it still needed to be presented to a wider audience.
Print ads helped to market what was now just called the Delorean, instead of the DMC-12. The focus of the Delorean advertising would be on the concept of being high end and that you would be "living the dream" by owning one. They would market the Delorean in higher-end publications such as "American Express Magazine" to try to appeal to those well off.
A limited-edition gold-covered Delorean would be offered to Gold card members for the sweet price of $85,000. Converted for today, that's around a quarter-million dollars.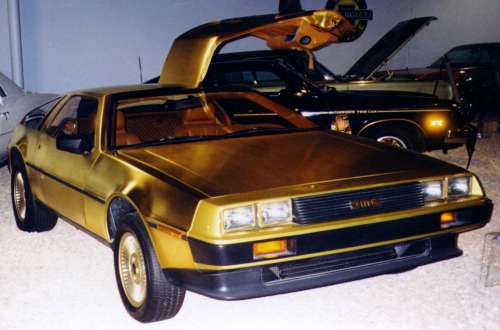 This car was hot, and in a pre-social media age – nothing could beat hype and great word-of-mouth. Everyone always wants the latest and greatest, and with the Delorean, they were selling the future – which is an interesting way to look at things now knowing its legacy.
But there were some problems with this hastily put together car.
Driving Issues With A Delorean
We all associated the Delorean with speed, but it wasn't exactly a Bugatti Veyron. It would take 9 seconds to go from 0 to 60 mph, and this put a lot of speed-based gear heads off.
The weight distribution was all thrown off because of the engine placement and this created all those handling problems that many complained about. They would fix some of these problems by installing turbos into the engine to boost the speed and get the 0 to 60 time down to around 5 seconds.
There was actually a good review of it from Car and Driver Magazine originally printed on July 1, 1981, that you can now read in digital form.
They did ask the ominous question at the end; wondering if it would be a technological marvel that turns out to be an economic disaster…
But back to the car: It also had a lot of features which were pretty decent for the time including:
Power windows
Telescopic steering wheel
Leather seats
Air conditioning
Tinted glass windows
These were great features, but they were driving up production costs. The price for this slowish, poor handling car was also a bit of a turnoff. The original target price for the Delorean would be around $12,000, but all those delays and production issues pushed it up to $25,000 or about $63,000 converted for today.
The Early Response to the Delorean
Those first few Deloreans didn't exactly fly off the shelves, but they were starting to move based on the hype that had been built around it. The problem was, people were having to wait for years to get one. Despite all that, the Delorean was a hot item and everyone wanted to be the first to own one. For those first 6 months of 1981, the Delorean would outsell Porsche and Mercedes in the U.S.
In the UK, it would even outsell the iconic Jaguar.
By the end of 1981, the company was already in trouble. This was a bad time to release a car as U.S automotive sales were now entering a depression. To break even, Delorean needed to sell around 10,000 to 20,000 cars, but by the end of the year, they had only sold 6,000.
Things weren't much better in 1982, and even though the Delorean was only intended for an American market, they tried to start selling them in Europe. John DeLorean was looking for some U.K. assistance as they were now only operating three days a week.
He pushed up the production from 50 cars a day to 80, and this was seen as suicide. Interest rates were a mess, a recession loomed, the exchange rate between the Pound and the Dollar was a disaster, and at this point, the government wanted out.
Desperate Times Call For Desperate Measures
Like any reasonable person does when faced with adversity, Delorean went the drug route… A neighbor of his presented the idea of bankrolling a cocaine trafficking operation. Turns out that this was a sting done by the FBI, but absolutely looks like entrapment considering that the idea was brought to him and he didn't seek it out.
The sting was captured in an L.A. hotel room and John DeLorean was charged in 1982. This pretty much put the brakes on the car. Groan.
Turns out that this actually was entrapment and they dropped the charges against Delorean. But by then, the company was hitting the skids and his name was completely tarnished. The damage had been done.
So 9,000 cars had now been produced, but they were just cooling their heels in giant lots for a few years. But this would all soon change…
The Best Commercial Of All Time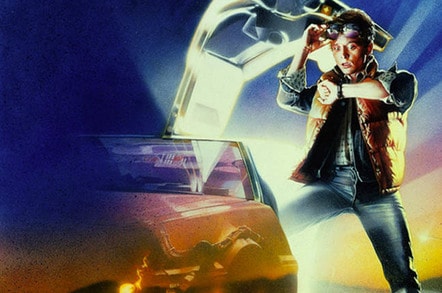 A great 60-second spot can do wonders for a product, or even an impressive magazine spread – but what about one of the most iconic movies ever made?
One of the early concepts for the Back to the Future time machine was going to be a refrigerator, but it was thought that kids might start locking themselves in fridges. This safety issue – and lack of mobility – made them switch to a car. Since the Delorean was now being trialed, it was turning a lot of heads – including those involved with this new time travel movie.
One big reason for its inclusion in the movie is the script called for the car from 1985 to look like a flying saucer to the Peabody family in 1955. The design of the Delorean helped make it look more flying saucer-ish when it crashed into the barn back in 1955.
The stainless steel finish was also a final selling-point to Back to the Future producer, Robert Zemeckis, as the stainless steel finish would look really good on film.
When fitted out with a flux capacitor, and all the other attachments, you've got one of the coolest-looking cars in history, and what is essentially one of the main characters of the movie. Back to the Future would end up being a massive hit, the number one grossing film of 1985, and it made the Delorean an iconic vehicle.
Fun Fact: A Delorean speedometer can't hit 88 mph, it legally had to top out at 85, so a custom dash display needed to be created for the movie.
Back to the Future, of course, created a massive resurgence in interest for the car and many would hop on board trying to own a piece of the greatest movie of all time. Many would try to replicate the version seen in the movie by adding in all the time features and elements – and you can't blame them one bit.
The Amazing thing is that this movie serves as constant marketing for the car as it will never be forgotten. It's like a 30-year long advertisement.
I don't want to leave you hanging if you were looking for more Back to the Future content, so here is my blog on the 21 things you probably missed in the movie.
Wait, You Can Still Buy a Delorean?
In 1982 – before the Back to the Future resurgence – the factory had finally closed. They were left with around 1800 cars, and the factory was filled to the brim with every part you would ever need for a Delorean. A company called Consolidated International swooped in to buy all the unsold cars and all the brand new parts that were sitting in the factory.
Consolidated International were not car people by any means, but they saw this as a good business deal at the time.
In 1997, Stephen Wynne, who had been living in L.A. fixing European cars, would end up purchasing all the used parts. Before that, In 1982 – when he was fixing all those European cars- Delorean owners in the area were turning to him as they were having trouble with their new cars left right and center. He decided that there was enough opportunity to focus solely on Deloreans.
In 1987, he ended up setting up shop in Houston using the location as a central depot of sorts to be able to ship parts to Delorean owners. So, by 1997, Wynee had now acquired millions of Delorean parts that now filled his 40,000 square foot building.,
Today, Stephen Wynne is the CEO of the DeLorean Motor Company, and his focus is on sales and restoration of all things Delorean. They sell parts to shops all around the world, and people send their Deloreans – also from around the world – to them to get the best repairs and maintenance possible.
I want to call him Doc Brown, but I won't
Today, they can actually put together a brand new Delorean, with brand new parts. It takes around 2800 parts to assemble a new Delorean and they can do it all in their shop. They have enough parts on hand to make 500 Deloreans — or as a group of them is called; a "jigawatt of Deloreans.
OK, I made that up, but it sounds good.
"The End Of The Dream, Or Is It…?"
What was the ultimate failure of the Delorean?
There are many issues, but the big one comes down to financing. It's hard to start a brand new company that doesn't have any history and try to get this thing funded. Elon Musk has faced the same issues over the course of Tesla's history.
He started with the Roadster, which was a high-end sports car at a heftier price. This would help to bankroll the next editions until he got it to the point it would be mass-produced for common people like the Model -3.
The Delorean went the same route by being marketed to higher-end clients, but all the production issues didn't allow for any consistency in the company. The rush to put the car out there is what would lead to its original demise. Given more time, the Delorean would have been even better, and it could have been consistently marketed.
The car was ok as far as performance, but it had a coolness factor to it which at least kept it going for a while. But it honestly all comes down to Back to the Future in regards to any form of continued success it experienced. Had this movie come out in 1982 then you might be seeing Delorean Model-3's everywhere or grew up being driven around in your family's Delorean minivan.
"The end of the dream, or is it…?"
Those were the words written inside the right-hand door of the last Delorean to come off the production line. These engineers had correctly predicted the future that would belong to this iconic car. It would be dead for the time being in 1982, but thanks to Back to the Future, this car continues to be marketed to this day despite having "gone out of business' more than 30 years ago. 
It might be a little out of reach to buy a real Delorean but check out the 1:24 scale model version you can buy on Amazon:
And if you want to keep remembering amazing 80s things, make sure to sign up or the Everything 80s newsletter!