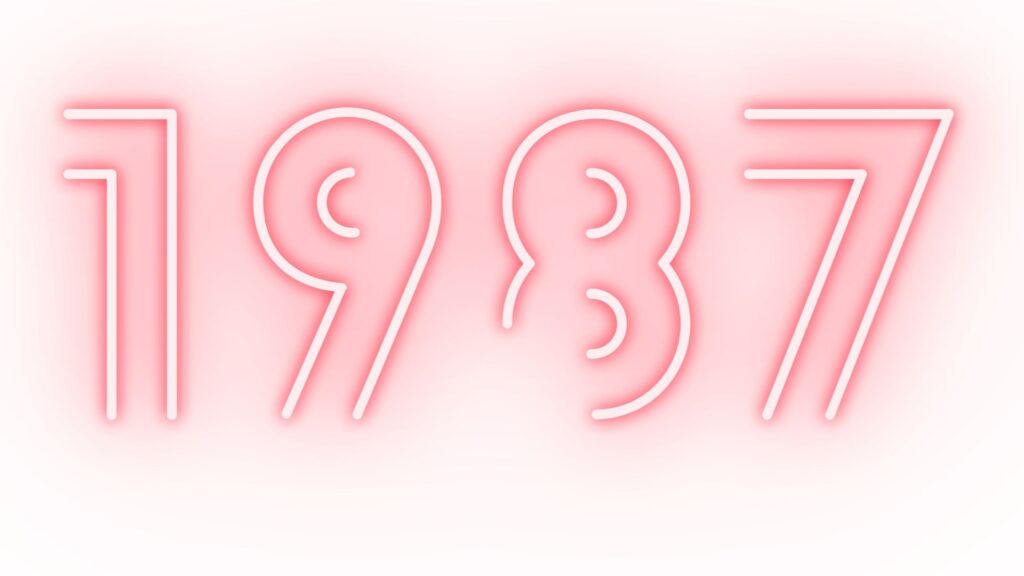 It was a year of incredible political and economic strife and continuing Cold War tensions. But while all this was going on, we were experiencing a monumental time when it came to pop culture and technological innovations.  Many beloved movies were released, as were some era-defying television shows, that became all-time favorites. 
But first, if you want to get caught up with my other yearly reviews, I've got you covered with links to all of them:
World Events of 1987
even though this is more focused on the pop culture moments from the year, we still need to look at some of the other significant events happening worldwide. And 1987 is quite a doozy. Here are just a few of these notable events. 
 Mikael Gorbachev and Ronald Reagan meet at a summit to discuss nuclear weapons. In June of that year, Regan would also Challenge Gorbachev and deliver his famous speech to tear down the Berlin Wall
Les Miserables wins the Tony Award for best musical
In 1987, USA today became the first newspaper to publish a digital photograph on its front page.
The first Starbucks outside of the US opens in Vancouver, Canada. Speaking of Canadian money, 1987 is the year we launched our one-dollar coin, better known as the Loonie.
An agreement is signed by Michael Eisner and the president of France to begin work on what would become EuroDisney
In the UK, Margaret Thatcher is elected to her third term
October 19th, 1987 would be one of the darkest days in the history of Wall Street in what became known as Black Monday. This is when the DOW dropped over 500 points. This was the biggest one-day drop in history. 500 Billion in market capital was gone and 22% of the entire market value was lost. This was twice as bad as the crash of 1929, which led to the great depression. If you want some more on this, I have a previous article all about yuppies, Reaganomics, and the crazy 80s economy if you want to go back and check that out. 
But despite the economic turmoil, The average cost for a home was $92,000 which today I think gets you a medium Latte at Starbucks, the price of a stamp was 24 cents, a gallon of gas was 89 cents, average rent was around $395, and the average price for a brand new car was $10,300. 
The Big Movies of 1987
1987 is a very interesting year in the history of movies, especially in the 1980s. There weren't necessarily any standout 80s blockbusters like Star Wars, Indiana Jones, Back to the Future, or Ghostbusters, but that doesn't mean it comes up short–far from it in fact, as it delivered many consistent and beloved hits. 
Let's look at a few of the notable releases from 1987.
The Princess Bride
The first is a film that gave us a unique, and comedic approach to the fantasy love story genre, and this is the Princess Bride. Released in September 1987–and based on a book of the same name–the Princess Bride is the story of a swashbuckling hero who has to rescue his true love from the hands of an evil prince. 
The story is as simple as it gets, but the approach Rob Reiner took was unique. The Princess Bride is told in the meta-fictional style, where the audience knows that they're watching a story. In this case, we observe the story as it is read by a grandfather to his grandson played by Fred Savage. But it also goes more of the comedic route thanks to performers like Billy Crystal, and the inclusion of the iconic Andre the Giant–who we'll see again later in this show–created even more spectacle for a film that has gone on to become a cult classic.
The Princess Bride wasn't a gigantic hit at the box office, but a very good one as it managed to double its own budget. But it's the legacy of this movie that has made it so timeless and it remains one of the most re-watchable movies ever. 
Dirty Dancing
Next is a movie that was one of the surprise hits of 1987, and a huge box office success: Dirty Dancing. Built on the back of amazing choreography, a great soundtrack, and Patrick Swayze, Dirty Dancing was actually more geared toward teens, but older audiences loved it and gave this movie a huge word-of-mouth. Dirty Dancing is the story of a dancer who falls in love with her dance instructor. 
With the drawing power of Patrick Swayze, audiences found out how good this movie was and it went on to make over $170 million worldwide. Which is nearly 500 million when adjusted for inflation. And considering that Dirty Dancing was made on a budget of just $4.5 million, this movie was an astounding success. I think one of the big factors that makes Dirty Dancing such a hit was the music. It featured songs like "I've Had the Time of my Life," "Hungry Eyes," and "She's Like the Wind" which was actually written, composed, and performed by Patrick Swayze.
Spaceballs
One of my all-time favorite movies came in the summer of 1987. It was a unique movie that was a parody of the biggest science-fiction movie of all time but still somehow managed to stand on its own: Spaceballs. The Mel Brooks classic took all the familiar things we loved about Star Wars but managed to create its own identity. 
And if you ever thought that Spaceballs seemed to stand alongside Star Wars, in that the special effects and cinematography actually looked good, that's because George Lucas was actually involved with this. Not only did he approve of what Mel Brooks was doing, but he also allowed the production to actually use Industrial Light and Magic to create the movie's effects and post-production. But the one thing Lucas did control, which is referenced so well in the film, is preventing them from releasing any Spaceballs merchandise, where the real money from the movie is made. 
From the flying Winnebago to Pizza the Hut and with the legendary Rick Moranis as Darth Helmet, Spaceballs was a massive hit 
Personally, this movie became an integral part of my very vocabulary and I once even acted out one of the Darth Helmet scenes in public school for a class presentation. It did not go over well with the teacher. Spaceballs is one of those films that I've watched so many times that I couldn't even garner a guess at how many that was. 
And is Spaceballs better than Star Wars? Check out my article where I break this all down here.
Here are some other notable films released that year–and there are quite a few
Harry and the Hendersons
Ernest Goes to Camp
Full Metal Jacket
Robocop
Revenge of the Nerds 2
La Bamba
Fatal attraction 
Moonstruck
Batteries Not Included
Good morning Vietnam
Adventures in Babysitting
Lethal Weapon
Wall Street
The Lost Boys
Who's That Girl
Planes, trains, and automobiles. 
Empire of the Sun
And the–let's call it disappointing–Masters of the Universe movie and the infamous Garbage Pail Kids movie. 
This is what I mean in that there wasn't necessarily a standout, year-defining movie from 1987, just a wide range of very consistent and long-lasting hits. It may really be one of the best years for movies for the entire decade. 
The Highest Grossing Films of the year were:
Leading the way was the follow-up to the enormously successful Beverly Hills Cop with Beverly Hills cop 2 making $153 million. Converted for today is around $400 million. An astounding result for a comedy sequel that tend not to perform as well. 
The second highest-grossing film of 1987 was Platoon
Fatal Attraction
The Untouchables
Built on the urban legend that a ghost appeared in this movie, which led to more ticket sales and eventually a ton of home video rentals, at number 5 was Three Men and a Baby
The Secret of my Success
Stakeout
Lethal Weapon
The Witches of Eastwick
And rounding out the top ten was Predator. 
At the Academy Awards of 1987, best actor went to Paul Newman for The Color of Money, Best actress went to Marlee Matlin in Children of a Lesser God, Best director was Oliver Stone for Platoon and best picture also went to Platoon
And speaking of movies, I have covered several classics from 1987 over at Patreon on the Everything 80s Movie Review Podcast, including Robocop, wall street, The Princess Bride, and the Lost Boys. If you want to check those reviews out or learn more about supporting the show, you can head to Patreon.com/80s . 
Top Music of 1987
Moving over the music world, 1987 was an astounding year with much of the top 40 a mix of pop and rock. 
Here is the year-end, top 10 singles according to billboard:
Walk Like an Egyptian-The bangles
Alone by Heart
Shake You Down by Gregory Abbott
I wanna dance with somebody by Whitney Houston
My personal favorite, Nothings Gonna Stop Us Now by Starship
Cest Le Vie by Robbie Nevil
The dirtbag classic Here I Go Again by Whitesnake
The Way it Is by Bruce Hornsby and the Range
Shakedown by Bob Seger
The unofficial karaoke anthem, Livin on a Prayer by Bon Jovi
But scattered through the Billboard top 100 are so many monumental songs, some that stuck out to me include, With or Without You by U2 at number 15, I think we're alone now by Tiffany and Mony Mony by Billy Idol at 18 and 19, and Who's That Girl by Madonna, which was all the way down at number 42, 
When we look at the top albums of 1987, this is where it gets interesting, as this year produced some truly, truly monumental albums. If we're going by album sales, here's what the top ten looks like:
After a 5 year break from Thriller, Bad by Michael Jackson was unsurprisingly the best-selling album of the year. It was another astonishing record that–besides the title track–included songs like The Way you Make me Feel, Man in the Mirror, Dirty Diana, and Smooth Criminal
The dirty Dancing soundtrack 
Appetite for destruction by Guns n roses at 30 million
Faith by George Michael sold 26 million 
Hysteria by Def Leppard with 25 million
The Joshua Tree by U2 25 million
Whitney by Whitney Houston 20 million 
Tango in the Night by Fleetwood Mac 15 million 
Kick by INXS 14 million 
Introducing the Hardline according to Terrence Trent Darby 12 million 
If we look at Billboard, and which albums spent the most time at number one, here's how it plays out. The top album of the year would be Whitney by Whitney Houston, which was number one for eleven straight weeks. The Joshua Tree by U2 would be next with 9 weeks at number one, Then there is a three-way tie with 7 weeks at number one between The Dirty Dancing Soundtrack, Slippery When Wet by Bon Jovi, and, even though it came out in 1986–License to Ill by the Beastie Boys. Surprisingly, Bad by Michael Jackson was only number 1 for 6 weeks, and the La Bamba Soundtrack spent two weeks at number one. 
Technological Advancements From 1987
1987 is an interesting year when it comes to technology. We don't necessarily have many groundbreaking innovations, but continuation and improvement on some existing technology that we were now more familiar with. 
The first wireless LAN (WLAN) standard, IEEE 802.11, was approved in 1987. This standard provided the foundation for the development of modern wireless networking technologies.
The first commercially available GPS receiver, the Magellan NAV 1000, was released in 1987. This device, which was about the size of a large suitcase, was primarily used by the military and aviation industry.
The first version of the Macintosh operating system to include a graphical user interface (GUI), System 1.0, was released in 1987. This marked a significant milestone in the development of the Macintosh platform and set the stage for future versions of the operating system.
Apple also released the Apple IIgs which was 16-bit and their first computer with a colour graphical user interface. And a big change was happening in that the price of the IIgs was only $999 compared to the $2495 of the Macintosh.
One interesting development in the tech–and automotive world–was by general motors. 1987 was the year of the world solar challenge; the very first solar power car race. It was won by the General Motors Sunraycer. The sunraycer is considered the godfather of the eclectic car and its solar panels produced 1500 watts which allowed it to hit speeds of 70 mp/h. 
In the video game world, the best-selling game of the year was Zelda 2: The Adventure of Link for the NES
One interesting develop
And last but not least was the introduction of IBM PC Convertible 5150. This was the world's very first laptop. It cost $2000–or $5200 converted for today–had 256kb of ram and weighed 13 pounds. 
Important TV Shows of 1987
1987 was another banner year for TV as it continued to be the driving force of entertainment in our lives. let's look at three significant shows that debuted this year. And they all have to do with family.
Full House
On September 27th, 1987, a new show debuted that featured a widowed father of three who moves in with his brother and law and best friend. Full House was a very important show for the ABC network as it ushered in a new era of sitcoms that followed a familiar tone, format, and structure. Full House became part of the backbone of the original TGIF Friday night lineup before it moved to its own night, as the story of the Tanner family was an absolute ratings juggernaut for the network. But If you want some more all about the origins of TGIF on ABC, I have an episode all about it if you want to go back and check that out. 
Married With Children
But on the complete opposite end of the Spectrum from Full House was another family-based sitcom that debuted on a new fourth network called Fox and that show was: Married with Children. Married With Children was the story of Al Bundy, a former high school football star who once scored four touchdowns in one game but whose life went in the complete opposite direction he was hoping. 
He is married to Peg and has two kids, Bud, and kelly. Married With Children was unique in that it was the polar opposite of all the squeaky-clean family sitcoms out there that's primary message was about hugging, sharing, and learning. Controversial and often offensive, the show set out with the approach that there's no such thing as bad publicity and it worked as it went on to become one of the longest-running sitcoms ever as its raunchiness drew a lot of attention to the new show and fledgling network. The uncomfortable truth was the average family was probably more like the Bundys than they were the Tanners, Seavers, Cosbys, or Keatons. 
The Simpsons
And speaking of dysfunctional families, next we have what is probably one of the most important debuts in the history of pop culture. On April 19th, 1987, a short cartoon appeared on the Tracey Ullman show that would not only go on to create a pop culture explosion, but become one of the most important shows in the history of television. 
The crudely drawn cartoon featured a family of 5 based on the family of its creator, Matt Groening. Homer, Marge, Bart, Lisa, and Maggie–better known as the Simpsons–started out as a one-minute feature on the third episode of the Tracey Ullman show. In that very first short, the three kids are being tucked into bed by Homer and Marge. The Simpsons would appear in these shorts 48 times before being given their own full animated series on December 17th, 1989. 
The Simpsons obviously will need its own episode to go into the true importance of this groundbreaking show, but if you were like me growing up, this was more than just a show and was a genuine part of my identity. 
Besides these three significant debuts, several other important shows first aired in 1987, including
Star Trek" the next generation
21 Jump Street
The bold and the beautiful
A Different World
Degrassi High here in Canada
Jake and the Fatman
A Different World–which made a huge splash when it debuted, which we'll get to in a moment. 
Next was Good Morning Miss Bliss–which was technically the prequel that gave us Saved by the Bell
And the show that scared the ever-living crap out of me: Unsolved Mysteries
And there was one other significant cartoon that–like the Simpsons–would go on to become a true pop culture juggernaut.
Teenage Mutant Ninja Turtles
Unless you were an avid comic book reader, December 14th, 1987, is when many people first met Leonardo, Donatello, Michelangelo, and Raphael, better known as the Teenage Mutant Ninja Turtles. The Debut episode entitled "Turtle Tracks" introduced us to the origin story of the turtles and the wide range of characters, including April O'Neil, Splinter, and Shredder. 
But unlike the quite dark overtones and themes of the original comic book series, the teenage Mutant Ninja Turtles cartoon would take the franchise in a more wacky, slapstick direction. This made it much more accessible to younger kids. The cartoon series–which if you're in the UK you knew as the Teenage Mutant Ninja Hero Turtles–was released in conjunction with a new line of toys marking the beginnings of a multi-billion dollar franchise. 
And let's look at the highest-rated shows for 1987 according to Nielson
As usual, the Cosby Show continued to dominate the ratings with a mammoth 27.8 rating. The average episode of the Cosby show was attracting around 30 million viewers. That's like the entire population of Venezuela tuning in each week. To put this into context, the best season of Modern Family would pull in around 17 million viewers
#2 was a different world that wasn't far behind, with a 25 rating
#3 was Cheers with a 23.4 rating
At number four was The Golden Girls at 21.8
Five was Growing pains, 21.3
Six was Who's the boss, 21.2
Seventh was Night Court, 20.8
8 was 60 Minutes which had now taken a considerable drop but was still getting a 20.6 rating
Number 9 was Murder, She Wrote with a 20.6 rating
And at number 10 was a tie between one of my all-time favorites was Alf and The Wonder Years, with an 18.8 rating.  
1987 was an interesting year as NBC was starting to move into more prominence as it featured the four highest-rated shows, and they would continue to be the network leader for years to come.
Major Sporting Events of 1987
We're coming off a World Cup year in 1986 and 1988 would be the Summer Olympics, but there were still some big world sporting events in 1987. This is the very first Rugby world cup was held. It was co-hosted by Australia and New Zealand and eventually won by New Zealand. 
1987 also gave us the Cricket World Cup where Australia defeated England, which obviously went down just fine in England… Also in cricket, Sunil Gavaskar scored 10,000 test runs to become the first player to ever reach this mark. 1987 is also the year of the infamous Punch-up in Piestany. I just recently covered this in a full episode if you want to go back and listen, but this is the year when a viscous on-ice brawl took place between Canada and the Soviet Union at the World Junior Hockey championship. 
Let's look at some other major sporting events and winners from 1987
Wimbledon was won by Pat Cash and Martina Navratilova
The Masters in golf was won by Larry Mize
Mike Tyson continues to dominate boxing and adds the WBA heavyweight belt to his collection
Sugar Ray Leonard also defeated Marvelous Marvin Hagler to win the middleweight championship
The Superbowl was won by the New York Giants
The world series went to the Minnesota Twins
The L.A Lakers win the NBA championship
And in the National Hockey League, The Edmonton Oilers win their third Stanley Cup
And even if you don't consider it a sport–even though kids like me did–in the world of sports entertainment, 1987 was the year of WrestleMania 3. Held at the Pontiac Silverdome in Michigan, this was considered the largest indoor crowd ever in North America with 93,173 people in attendance.
This number has actually been disputed, but regardless WrestleMania 3 was the peak event during the wrestling boom of the 80s and pitted Hulk Hogan against the 8th wonder of the world Andre the Giant. This is the match where Hogan did the impossible, by not only beating Andre, but body slamming him in the process. 
No matter what way you cut it, 1987 was a truly remarkable year; politically, culturally, economically, you name it;  this was a year of profound events that forever shaped our world.