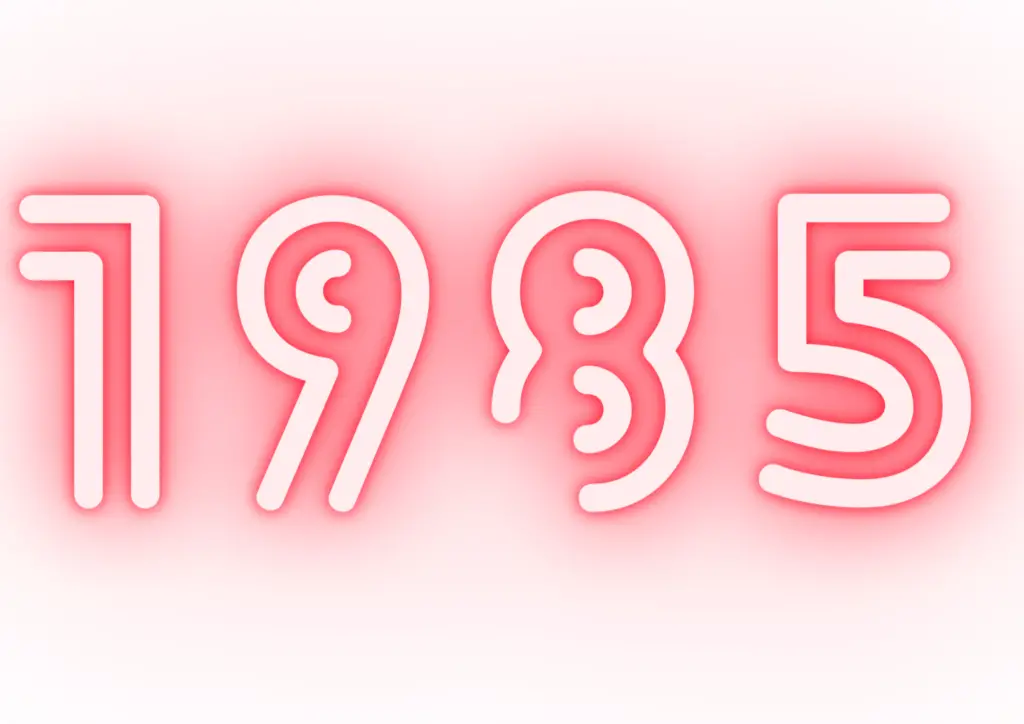 I've been reviewing each year of the 1980s and we've reached the halfway point. And we've also reached the year that may be the crown jewel of the entire decade: 1985. It's not that the 80s peaked this year, but it seemed to get pretty close. This will be a look back on the major events, movies, TV shows, cartoons, technology, and sports of what's arguably the best year of the decade: 1985.
But before that, make sure to check out my other yearly reviews so you're all caught up:
Some Other Notable Moments From 1985
As I do these yearly reviews, I'm focusing on the pop culture-related moments of each year. But we can't ignore the world events that are happening. Even though we were more concerned with getting the best breakfast cereal, and Saturday morning cartoons; these events were still taking place around us–even if we were unaware. 
Here are some notable world events in 1985

Mikhail Gorbachev becomes the Soviet leader
The Live Aid concerts from Philadelphia and London raise over $50 million
Route 66 is officially removed from the US highway system
The UK and Spain agreed to open the border between Gibraltar and Spain
Calvin and Hobbes make its debut
There was the devastating volcanic eruption in Columbia 
The British coal miners' strike ends
The wreck of the Titanic was discovered
Average monthly rent is $325, a gallon of gas is $1.09, the average cost of a new house was $89,000, a new car was around $9,000, and a stamp cost 22 cents
The Disaster of New Coke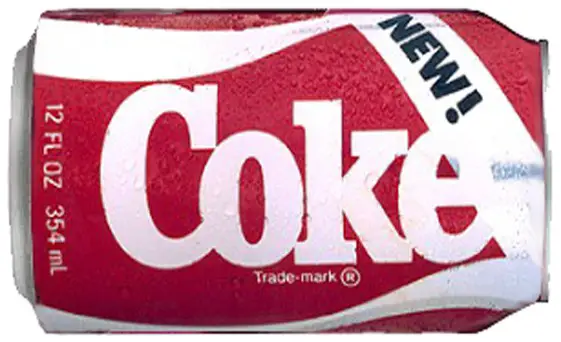 Speaking of world events, here we have one of the greatest marketing disasters of all time: New Coke. 1985 was the hundredth anniversary of the iconic beverage and the company started to struggle a bit in the market. Pepsi had severely cut into Coke's market share with their "Pepsi Challenge" taste-test battle, and Coke decided it needed a fresh approach.
The diet cola market was making significant traction and people were getting used to the sweeter tastes that came with a diet cola. Coca-Cola abandoned its original formula–the same one they had been using for a century–and completely redesign their soft drink. They would call it "New Coke." New Coke had a sweeter taste but was distinctly different from the one everyone knew. It did well in taste tests and the company was encouraged.
But here's the problem: New Coke wouldn't be launched in addition to regular Coke but as a total replacement. This is what would cause a disaster for the company. 
Even if people loved New Coke more than anything (which they didn't) taking away something that had been a part of people's lives for generations was way too far. This is when the backlash began. Coca-Cola headquarters was flooded with hateful letters and phone messages about this abrupt change. Not only were sales dismal, but this is the type of backlash that can sink a company.
Coke hired psychologists to analyze the messages they were receiving and discovered that people were discussing the hurt they felt in the same way they would had they lost a family member. Yikes. 
Just three months later, Coca-Cola would completely abandon New Coke and bring back the original formula which they now branded "Coca-Cola Classic." Was this their intent all along? Did they want to upset the public and make them appreciate and feel nostalgic for the original drink? Or was it just the worst marketing blunder of all time? 
When asked whether or not this was a stunt, Coca-Cola president Don Keough gave one of the great all-time lines when he said: "We are not that dumb, and we're not that smart."
Speaking of colas, 1985 was also the year when the infamous Jolt Cola was released. You can read all about that here.
The Big Movies of 1985
It may not be the best year for the overall number of 1980s classics, but 1985 definitely gave us some of the most significant. And it, of course, all starts with one film, and one film only….
Back to the Future
My favorite movie of all time, the definitive 1980s movie, and one of the primary driving influences behind this entire blog and podcast. What more can we say about Back to the Future that hasn't already been said?
It's the movie that began when director Bob Gale was at his house looking through his parent's old yearbook. He found out that his dad was student council president. Gale didn't have a lot in common with the student council president when he was in school, and he wondered if he would have been friends with his dad if they were both in high school at the same time.
This simple idea put in motion a movie that captured everyone's imagination. Not only did they create a mind-blowing time travel movie, but included several other genres of film.
Back to the Future is:
A science fiction film
action/adventure
Comedy
Teen highschool movie
Romance
A Coming of age film
Back to the Future was released on July 3, 1985, and was an instant hit. It stayed number 1 for an astonishing 13 weeks and would surpass the juggernaut that was Beverly Hills Cop as the highest-grossing film of the year. By the end of its run, Back to the Future had made nearly $390 million. Converted for today, that's over $1 billion.
Back to the Future was seen as helping to save a year for Hollywood that was struggling. 1984 was a banner year for films and the industry had crossed the $4 billion dollar mark. But in 1985, it was down 14% but Back to the Future helped to save it. 
Back to the Future is also notable for making a massive 180 over the course of filming. Michael J. Fox was always the first choice to play Marty McFly, but schedule conflicts with Family Ties prevented it.
Actor Eric Stoltz was then cast and most of the movie was completely finished. But the producers realized Stoltz wasn't working. He was bringing a tone that was too intense and not as whimsical as the Marty we now know. The producers had to make the very difficult decision to let Stoltz go. But then Michael J. Fox was available. Reshooting a majority of the movie cost the studio another $4 million, but it was clearly the right choice. 
The Goonies
When people cite their all-time favorite 1980s movie, Goonies is often at the top of the list. This movie captured everything that made 1980s films so great. It was youthful, comedic, action-filled, and a true fantasy movie. Directed by Chris Columbus, The Goonies came out on June 7th, 1985, and completely captured the imaginations of kids everywhere.
It was a "kids" movie, but not in a watered-down Disney-type way. This felt more like the kids we knew and the way we actually talked and acted. The Goonies is also a simple treasure hunt as the kids try to find the treasure of "One-Eyed Willy."
As notable as The Goonies is, it wasn't exactly a box-office juggernaut. Made on a budget of $19 million, the film would gross just over $61 million. Converted for today, that's about $170 million. Not awful by any means, but it would become more successful–and a cult favorite–as the years went by. 
The Goonies still finished in the top ten highest-grossing films of the year, and when you look at all the competition–this is still pretty impressive. It also made stars of Sean Astin, Corey Feldman, and a young Thanos in Josh Brolin. 
Beverly Hills Cop
Beverly Hills Cop is interesting because, as successful as this movie was, it could have been even more successful. It's also interesting as it came out in late 1984 but really took off in 1985. It had an odd release date of December 5th.
If you're like me, you wanted to see this movie more than life itself. But there was NO way that was going to happen, as it was an R-rated film. My mom had concerns about me seeing Transformers: The Movie, so there was no way Beverly Hills Cop was going to happen.
And this is what may have prevented it from being an all-time box office smash. Don't get me wrong, it was still massively successful, as it made $316 million on a budget of just $13 million. Converted for today, that's over $850 million. An astonishing amount for an action/comedy, no matter when it was released.
And the point is, this was an R-rated film (and became the highest-grossing R-rated film of all time) but think how much more money it could have made if it was PG-13 and more people could have seen it. Lost in all of this success is the fact that Beverly Hills Cop was actually nominated for an Academy Award for best original screenplay and a Golden Globe for best motion picture–musical or comedy. 
The Breakfast Club
Here we have the definitive coming-of-age film. The Breakfast Club came out on February 15th, 1985. Directed by John Hughes, The Breakfast Club is a simple film, in one location, with a group of kids who have nothing in common–or so they think. 
The characters of the Breakfast Club do have something in common. Like most adolescents, they feel misunderstood and rebel against an authority figure. The film was made for just $1 million and feels like you're watching a play. The cast rehearsed for three straight weeks to discover their characters and build that on-screen rapport and connection.
This also allowed them to film the movie in its exact sequence, which maybe explains why it flows and blends together so well. The movie represents this specific period in the 80s, but viewers of any era can relate to the issues the kids face. It was also significant, as all of us could identify ourselves in at least one character. 
Here are some of the other notable movies of 1985:
The Color Purple
Pee-Wee's Big Adventure
Teen Wolf
Weird Science
Ewoks: The Battle for Endor
A View to a Kill
The Jewel of the Nile
Brazil
So, 1985 may not have as many classic offerings as, say 1986, 1988, or 1989, but it stands out as one of the most significant years for film not only in the 80s but ever. 
The Best Music of 1985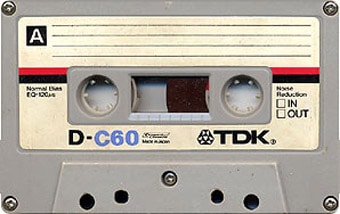 Some big-time musical moments happened in 1985. "We are the World" and Live Aid has to be at the top of the list. The event at Wembley would also give us arguably the greatest musical set of all time when Queen took the stage. This was also the first time Led Zeppelin had played together since they disbanded in 1980 and it was the day where, thanks to the Concorde, Phil Collins was able to appear in both Philly and London. 
Here are some other big moments in music from 1985:
Rock in Rio begins
VH-1 begins broadcasting
Whitney Houston releases her debut album
David Lee Roth leaves Van Halen
1985 is the year when Michael Jackson purchased all the publishing rights to all the Beatles' music, much to the horrified dismay of Paul McCartney, who was also bidding
But 1985 was definitely about pop music. Hard rock and electronic were nowhere near the top ten singles. 1985 was all about Wham! And Madonna. Speaking of Wham, they would become the first Western pop act to play in China. 1985 was more about lighter hits and feel-good songs and here's what the top ten looked like according to Billboard:
"Careless Whisper" by Wham!
"Like a Virgin" by Madonna
"Wake Me Up Before You Go-Go" by Wham!
"I Want to Know What Love Is" by Foreigner
"I Feel For You" by Chaka Khan
"Out of Touch" by Hall and Oates
"Everybody Wants to Rule the World" by Tears for Fears
"Money For Nothing" by Dire Straits
"Crazy For You" by Madonna
"Take on Me" by a-ha
There are some surprising hits that were nowhere near the top ten in 1985 including "We Are the World," "The Power of Love" by Huey Lewis and the News, "We Built This City" by Starship, and "Don't You (Forget About Me)" by Simple Minds.
When it came to the best-selling albums of 1985, there were 19 number one albums that year which shows you how diversified the best-selling album charts were. The number one album of the year–when we go by best performance–was "Born in the USA" by Bruce Springsteen. There was now months-long dominance like we had seen with Thriller. "Brothers in Arms ' by Dire Straits spent the most weeks at number 1 with 9. 
Other top-selling albums of the year included:
The Miami Vice soundtrack
The Beverly Hills Cop soundtrack
"We are the World" By USA for Africa
"Like a Virgin" by Madonna
" Make it Big" by Wham!
"No Jacket Required" by Phil Collins
"Songs From the Big Chair" Tears for Fears
Technological Advancements
We'll get to the one big one that had the most profound impact on kids in a moment, but 1985 gave us an interesting mix of technological advancements–and significant events. One big event was the release of the Commodore 128 in January. 
And here's an interesting one that easily slipped under the radar. In 1984, we, of course, got the release of the iconic Macintosh from Apple Computers. This was revealed in what is arguably the greatest commercial in history: the Apple Super Bowl commercial. Few people remember Apple had a follow-up to this groundbreaking ad in 1985. It was the "lemmings ad" and was used to promote the Macintosh Office. The ad was the complete opposite of the 1984 ad and was a massive flop. 
1985 is also significant in the tech world as on September 16, 1985, Steve Jobs would quit Apple. We all know how this story turns out, but at the time; this was a seismic cultural shift. 
The first version of Microsoft Windows came out in 1985 and cost $100, or around $270 when adjusted for inflation. 
The CD player was going strong. It was first introduced in 1982, but the very first Discman came out in 1985. This release really wasn't the greatest idea and was so prone to skipping that you could barely walk around with it. It would take years for the technology to develop and people just stuck with their Walkman. 
The NES is Released in North America
It might seem weird now looking back, but there was a time in the early 80s when video games had died. The great video game crash of 1983 had bankrupted Atari and caused manufacturers and toy producers to distance themselves from anything to do with video games.
A nearly 100-year-old company in Japan called Nintendo was finding success with a new video game system they called the "Famicom" (family computer). They believed in the advanced technology they had with this new system and wanted to bring it to North America.
Worried about the backlash from the video game crash, they did everything they could to distance themselves from video games. They wouldn't use "cartridges" but had a "game Pak." They didn't have "joysticks" but used "control pads". There wasn't a "console" but would use a "control deck". And, most importantly, they weren't a "video game system" but an "entertainment system".
They changed the name from the Famicom to the Nintendo Entertainment System and rejuvenated the video game industry forever. The NES came out on October 6, 1985, to select test markets before being released nationwide and changed video games forever. Funny enough, Super Mario Bros would be released a month earlier. 
For a kid in the 80s, it didn't seem possible that video games could be this good. I distinctly remember the first time playing Mario and not knowing a world like this was possible. It also gave us Duck Hunt, where we could actually interact with the game on the screen in front of us. And I clearly wasn't the only one blown away by the advancements of the NES. They would sell 61 million systems. By 1988, the market for Nintendo cartridges was bigger than for all home computer software. By 1990, a staggering 30% of North American households had an NES.
The future was here, and there was no looking back. You can read the amazing history of Nintendo, and the full creation of the NES, in an article I wrote all about it.
The Important TV Shows in 1985
There's still no change; TV ruled the roost in 1985. The introduction of the NES would cut into our TV watching time, but network TV was still king. Let's look at some of the significant shows that debuted in 1985. 
GI Joe
If you were a kid in the 80s, it obviously got no bigger than the monumental GI Joe cartoon. So technically, the show debuted in 1983 but, looking back, we can see how these episodes were nothing more than 22-minute commercials for the toys, but we didn't care–we still loved it. 
GI Joe may be the spokesperson for the era of deregulation in the advertising to children. A show like this would have never been possible just a few years prior. But with all the restrictions with children's advertising lifted–GI Joe had free rein and became the blueprint for how to produce a cartoon and toy line. It started in 1982 with fully animated TV commercials that introduced the characters and toyline. 
These commercials were so popular that In 1983, a 5-part mini-series was created. Then another 5-part series in 1984. The show didn't get a full release until 1985 when a massive 55 episodes were commissioned for release. And funnily enough, it only lasted for two seasons. Another 30 episodes were released in 1986, but at that point, there were more than enough for syndication, and GI Joe would become a staple for after-school viewing for years. 
Speaking of cartoons, 1985 was a big year for them–it may have even been one of the best ever.  Here are some beloved shows that debuted this year:
The Care Bears
Jem and the Holograms
The Ewoks cartoon
Star Wars: Droids
The Gummi Bears
She-Ra
Thundercats
The Racoons
The Bugs Bunny/Looney Tunes Comedy Hour
The Wuzzles
The Berenstein Bears spelled with an "e"….
Small Wonder
One of the weirdest sitcoms of the 80s, Small Wonder, is something you couldn't help but get caught up in. Telling the story of the Lawson Family and VICKI, a child robot built by Lawson that the family passed off as an adopted child. Small Wonder debuted in September 1985 and would last until 1989.
Vicki was technically V.I.C.I.—voice input child identicant and she probably would have made a pretty good Avenger. Actor Tiffany Brissette played Vicki, and she was like a small female Iron Man who had superhuman strength and speed.
Small Wonder was one of the very first shows that were produced as a syndicated series, meaning that it never had original broadcast dates, so could be made for next to nothing and was always a profitable show.
The Golden Girls would be another one of the most significant debuts of 1985 and would run all the way to 1992. Another notable show was MacGyver. It would also run until 1992. For my UK and Aussie friends, 1985 was the year the residents of Ramsay street were first introduced to the world when Neighbors was released. 
A few other significant TV shows that came out in 1985 include:
Growing Pains
227
Eastenders
Mr. Belvedere
Let's look at the top ten highest-rated shows of 1985. The juggernaut Cosby Show was still on top, averaging a rating of 33.7. That means that more than a third of the viewing country was tuning in to watch. A rating point equals around 980,000 viewers, so approximately 33 million people tuned in each week. It was almost doubling the audience of Monday Night Football.
The average episode of the Cosby Show was getting more ratings than that year's World Series. But close on its heels was Family Ties with a 30 rating share. Here's how the rest of the top ten played out in 1985:
The Cosby Show – 33.7 
Family Ties – 30
Murder, She Wrote 25.3
60 Minutes – 23.9
Cheers – 23.7
Dallas – 21.9
Dynasty and the Golden Girls tied at 21.8
9.   Miami Vice –  21.3
10. Who's the Boss? – 21.1
Major Sporting Events in 1985 
1985 was a pretty decent year for sports. But a lot of that depends on what city you live in. For some, it may have been an awful year. But there's one thing we need to start with. Even though you may not consider it a "sport," one event ushered in a whole new era of sports entertainment.
WrestleMania 1
If you've been a wrestling fan at any point, you have WrestleMania 1 to thank for it. What was considered a massive risk at the time, WrestleMania 1 was a first-of-its-kind event that brought together professional wrestling, celebrities, and music into a culmination event that took place at Madison Square Gardens on March 31st, 1985.
They centered the main event on Hulk Hogan and actor Mr. T. against Rowdy Roddy Piper and Paul "Mr. Wonderful" Orndorff. It also featured singer Cyndi Lauper, who had been a big part of getting the WWF to become more of a mainstream product. They dubbed the connection between wrestling and MTV "The Rock 'n' Wrestling Connection."
Professional wrestling had exploded in the 1980s and a culmination event would be the perfect way to bring this new world of rock and wrestling together. And It would be built on the back of Hogan. His tremendous appeal had shockingly put him on the cover of Sports Illustrated, and Hulkamania was indeed running wild. 
Owner of the then WWF, Vince McMahon, put everything he had into WrestleMania 1 including allegedly mortgaging his house unbeknownst to his wife. If it hadn't worked, professional wrestling would have probably stayed a regional niche attraction instead of the global powerhouse it now is. WrestleMania 1 was also the introduction of a new kind of viewing called "closed-circuit television" which hadn't been done before and it was a way for people to watch the event live in theaters in their own cities.
WrestleMania has been going strong for 38 years. And despite how gigantic the event and venues have become, it still follows that blueprint laid back in 1985. 
---
With regular sports, we're coming off of an Olympic year in 1984, so there's always a bit of a letdown the following year. One very significant sporting moment occurred in September when Pete Rose broke Ty Cobb's all-time hit record by reaching 4,191 hits. Here are some other sporting highlights:
Marvin Hagler knocks out Thomas Hearns and Michael Spinks defeats Larry Holmes
Villanova won the NCAA basketball championship
Boris Becker wins Wimbledon at the astonishing age of 17
Ivan Lendl wins the US Open, and Martina Navratilova wins both Wimbledon and the Australian Open
Spend a Buck wins the Kentucky Derby
Bernhard Langer wins The Masters
In the big four North American sports, we have:
The Stanley Cup won by The Edmonton Oilers
The LA Lakers win the NBA Championship
The Kansas City Royals win the World Series
Joe Montana and The San Francisco 49ers win Super Bowl 19 against Dan Marino and The Miami Dolphins in the "battle of the quarterbacks" 
Wrapping it Up
Yes, there were still a lot of terrible things that happened around the world in 1985, but they really seemed to take a back seat to the fun and excitement the year had to offer. Our experience will vary widely–and we often look back at the past with rose-colored glasses–but things really felt like smooth sailing in 1985. 
The 1980s was a decade that seemed to offer a lot of hope and progress and I don't think any year exemplified that better than 1985. So why not keep going and catch up with the year 1986, and 1987?
---
If you want to check out some sweet 1980s items you can still buy on Amazon, just head on over to my Resource Page