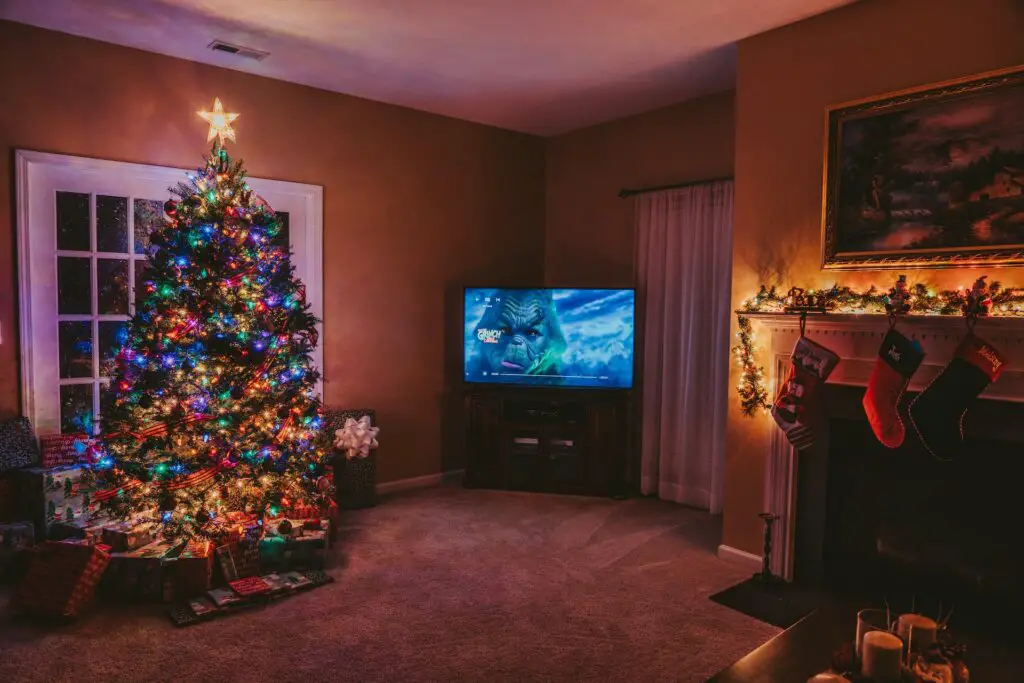 Every decade has given us a great offering of Christmas movies and holiday favorites. And They go as far back as the dawn of films themselves. The very first Christmas movie ever is considered Santa Claus, a simple 5-minute film from all the way back in 1898. And the coming decades gave us many classics, including Miracle on 34th Street, White Christmas, It's a Wonderful Life, How the Grinch Stole Christmas,  and A Charlie Brown Christmas.
But then there were the dreadful 1970s that gave us a handful of Rankin Bass specials and the infamous Star Wars Holiday Special. 
But the 1980s got things back on track and took it to the next level with a combination of heartfelt classics, family favorites, screwball comedies, and a few films that–on the surface–don't necessarily appear to be Christmas movies…Let's count ten of the best Christmas movies of the 80s. 
10. Prancer
At number ten is the movie Prancer. It came out on November 17th, 1989, and is the story of eight-year-old Jessica. She is an adamant believer in Santa Claus and, one day, finds an injured reindeer in the woods. She believes it is Prancer, and, with the help of a kindly veterinarian–played by the great Abe Vigoda–the two attempt to take care of the injured animal. Eventually, the town finds out that one of Santa's reindeer is in their area, which leads to chaos. But Jessica has helped Prancer heal and by the end of the movie, he's able to leave and join back up with Santa and the other Reindeer. 
Prancer may not be the greatest Christmas movie ever, but it is a solid offering that may appeal more to younger viewers. The film also stars Sam Elliott as Jessica's widowed father and Cloris Leachman. 
Prancer was an average hit but did develop a solid fan base, especially on home video. It wasn't a massive commercial success at the box office but still made around 20 million dollars on a budget of just 7. It might have done even better if it wasn't for another Holiday classic–that we'll get to in a moment–that opened not long after Prancer. And the two films also share the same actor. 
9. The Christmas Star
At number nine is an often overlooked holiday movie, The Christmas Star. It came out on December 14th, 1986. 
This movie is about Horace McNickle, a criminal counterfeiter locked up in jail. Horace looks just like Santa Claus but is able to escape prison. His likeness to old St Nick is what helps him get away with a lot, but the police are still hot on his tail. Horace has a stash of loot from a previous con that he is trying to get back to and uses two neighborhood kids who think he is the real Santa. 
The kids end up helping him, but this endeavor has revealed to Horace what Christmas is all about, forcing him to change his ways. The first notable thing is that Horace McNickle is played by Ed Asner, who also played Santa in 2003's ELF. I guess that's called being typecast…
The Christmas star is a bit of an underrated gem. It has its holiday cheesiness factor, but that's part of the appeal. As of the time of this recording, The Christmas Star is available on Disney plus if you wanted to check it out. 
8. Christmas Comes to Willow Creek
At number 8 is A made-for-television movie from 1987, Christmas comes to Willow Creek. This may be considered a Dukes of Hazzard Christmas movie. It's not Dukes of Hazzard theme, but stars John Schneider and Tom Wopat, aka Bo and Luke Duke. 
Thankfully, the movie isn't set in Hazzard country, but in Willow Creek, Alaska, a town going through some tough times. Brothers Pete and Ray (played by Wopat and Schneider) are truck drivers, but two very different people. Pete has a rebellious son and the two brothers are hired to bring Christmas presents up to Alaska. How will they co-exist?! Aka the plot of every Hallmark Christmas movie ever.
The two brothers and the son get stuck in a blizzard while Ray's wife is about to give birth. But the brothers reconcile their differences and arrive in Willow Creek just in time to crowds of joyous onlookers. They all decide to stay in Willow Creek and live happily ever after. Until Boss Hogg shows up. 
Christmas Comes to Willow Creek was a reunion for both John Schnier and Tom Wopat and this production created a bit of that Hallmark Christmas movie feel, decades before those movies took over the holiday airwaves.  
The movie came out on December 20th, 1987 on CBS, and was actually filmed in the Yukon. Christmas Comes to Willow Creek is a pretty beloved holiday film and just to see Bo and Luke Duke in a winter setting is pretty amusing. 
7. A Very Brady Christmas
Speaking of made for tv movies, next we have A Very Brady Christmas. Released in 1988, A Very Brady Christmas is a real departure from the classic sitcom. This is a full comedy drama holiday film that was also a massive ratings hit.
In a Very Brady Christmas, Carol and Mike are planning separate Christmas trips for each other. Realizing this won't work, they instead decide to fly in all their children and grandchildren. But this is the Brady Bunch all grown up and the characters are going through their own personal –and very adult–issues. We've gone way past Marcia's broken nose and Peter's changing voice.
It honestly gets a little dark, but that's what makes for a more compelling movie. Jan is separated, Bobby has dropped out of graduate school, and even Alice's husband Sam has left her. The children open up to their parents, who help guide them through their tribulations. But then the family dinner is interrupted when Mike has to go rescue employees trapped in a collapsed building designed by a shady businessman. This is not your grandparent's Brady Bunch.
But all ends well as the family's bond becomes stronger than ever–and even Sam comes back in the end.
A Very Brady Christmas aired on December 18th, 1988, and was the highest-rated movie of the season, with a massive 25.1 rating and a 34 share. That meant that a third of all people watching TV that night were tuning in to A Very Brady Christmas. If you were of a certain age in 1988 with access to CBS, there's a good chance you saw this movie.
It was also the second highest-rated TV film for all of 1988. This movie was such a hit that it led to a short-lived new series called The Bradys. As I said, the tone of this is much different from the old sitcom, but the movie focused on the importance of family during the holidays and it was a big part of the Christmas of 1988. 
6. Die Hard
Next, we have the movie that has caused more holiday controversy than probably any other film. And that is because, why yes, Virginia, Die Hard is a Christmas movie. I'm lucky this isn't YouTube or the comments section would be exploding right now
Die Hard–which believe it or not is actually based on a book called "Nothing Lasts Forever"–tells the story of John McCain, a cop who is visiting his estranged wife and two daughters on Christmas eve. John joins her at a holiday party held in a large office building that's being put on by her company. But a group of terrorists disrupts the festivities by hijacking the building and taking the building hostage. Can anyone save them? John McCain can…
So the obvious reasons that Die Hard is a Christmas movie is that it is set during Christmas, features Christmas music, and even explores some holiday themes such as love and connection–which are heightened during the holidays. It also has a classic Scrooge character in the villain Hans Gruber played by the late great Alan Rickman.  The movie explores miracles and it also may represent the stress of the season and how the holidays can be hard on many.
Critics of the "Die Hard is a Christmas movie" state that it came out in June, but all we have to do is look to one of the writers of Die Hard, Steven de Sousa. In an interview with Time Magazine, he says that he and fellow writer Jeb Stuart crafted Die Hard as a Christmas movie.
But in further clarification, in 2017, writer Jeb Stuart wrote into the Stuff You Should Know Podcast to settle the debate once and for all. He told hosts Josh and Chuck that "Yes, Christmas was always a part of the theme, and it was set on Christmas eve as they needed the building as empty as possible."
Stuart goes on to say that since they were adapting a book, they had more creative leeway and that's when he included much more Christmas content. Family is at the core of Die Hard and that's usually the theme for other holiday classics. Stuart finished by saying, "there's no question in my mind that Die Hard is a Christmas movie." 
So now, we can all move on as Die Hard remains a go-to classic to watch during the Holiday season for many people. Ho-Ho-Ho, I have a machine gun…
5. Gremlins
While we're on this theme of whether or not a film is or isn't a Christmas movie, let's look at another from the 1980s that definitely is: Gremlins. Released in 1984, Gremlins is the story of a traveling businessman who tries to make up for his absence by buying his son Billy a unique gift: a bizarre creature called a Mogwai.
The creature, that is named Gizmo, comes with specific instructions, including not allowing it to get wet or feeding it after midnight. But these rules aren't followed, and Gizmo spawns dozens of other creatures that eventually turn into murderous gremlins. It's up to Billy and Kate to save the town. 
On the surface, Gremlins appears to just be a dark comedy monster movie, but this is a straight-up holiday movie. Besides the fact it's set at Christmas and features Christmas music, Gremlins actually dives into some deeper themes.
Gremlins can represent the dangers of commercialism during the holidays. The basic plot is about a father buying a present for his son and trying to get the best possible one to win his love. The gremlins themselves represent capitalism and commercialism running a muck during the holiday season. The Gremlins spreading out of control can represent how our greed and commercialism have also spread out of control through what is supposed to be a season of peace and love. 
The movie–and the gremlins themselves–also represents how the holidays can be a tough time for many people. The gremlins represent the opposite tone to the many schmaltzy movies that try to shove holiday cheer down our throats.
That Hallmark-style Christmas movie just isn't the case for many people. All you have to do is listen to the scene where Katy–played by Phoebe Cates–explains how she found out Santa isn't real… But Gremlins isn't an anti-Christmas movie, but one that just shows the opposite side of the coin.
Gremlins has become one of my go-to Holiday choices and if you're a fan of Back to the Future , there are a few interesting connections between the two films. Billy's mom is played by Frances Lee McCain, who played Lorraine's mom, Stella, and the town square in Gremlins is the exact same set location used for the Hill Valley town square in Back to the Future. 
4. Scrooged
Scrooged, featuring the great Bill Murray, came out in 1988 and gives us a modern re-telling of a Christmas Carol by Charles Dickens. 
Frank Cross is a grumpy TV executive who treats everyone around him like garbage–especially his employees. He's so mean that he fires an employee on Christmas eve. Despite being such a scrooge, Frank's brother repeatedly tries to invite him to Christmas dinner each year. Frank is also planning a live-action Christmas special on Christmas eve before he is visited by the ghosts of Christmas past, the ghost of Christmas present (this one played hilariously by the incredible Carol Kane), and the ghost of Christmas future that all show him the error of his ways. 
Scrooged is a great movie as it takes the classic Dickensian tropes and drops them right into 1980s culture. The character of scrooge works perfectly during this time of Wall Street, Yuppies, and capitalism. If you want to learn more about the rise of Yuppie Culture and the crazy 80s economy, I have a previous episode you can go back and check out. Scrooged also gave us one of the best songs of the entire 1980s with "Put a little love in your heart" by Annie Lennox and Al Green.
Scrooged was released on November 23rd, 1988, and was produced by Richard Donner, who made the original Superman. This was also Billy Murray's first role since Ghostbusters. He had been off-screen for four years and living in Paris. Scrooged was his first role back and to play the part meant he reportedly turned down the lead role for Rain Man, Big, and Cocktail. Yowza. 
But the famous actor and director reportedly did not get along at all. And there are so many interesting things that went on with this movie. Sam Kinison–a stalwart 1980s standup comedian–was originally going to play the ghost of Christmas past, but it didn't work out. And in classic Bill Murray fashion, he Improvised a ton of his lines. There was apparently so much footage left on the cutting room floor that the movie could have taken an entirely different tone and direction.
And in one astonishing scene, we see a street band that includes legendary late-night bandleader, Paul Shaffer, and the iconic, iconic, Miles Davis. Spurned on by "Put a little love in your heart" Scrooge was a huge hit for the Christmas of 1988 and made over $100 million at the box office.
3. Ernest Saves Christmas
We've entered the top three, and If you grew up in the 80s, you knew the legacy of Ernest P. Worrell played by the incredible Jim Varney. The character of Ernest was everywhere in the 80s. He started out in commercials, before moving on to his extremely underrated–and Emmy Award-winning–children's show, Hey Vern, It's Ernest! And I have an article all about Jim Varney and his incredible work in my previous episodes. 
Then, there were also several beloved Ernest feature films including Ernest Goes to Camp, Ernest Goes to Jail, and the beloved Ernest Saves Christmas. In this feel-good holiday classic, we see that Ernest is working in Florida as a cab driver. One night, he picks up what turns out to be Santa, who is there to find his replacement. We also meet a troubled teen named Harmon. Ernest ends up getting fired because, after finding out his passenger–whom he doesn't know is Santa–has no money, lets him ride for free. 
The person Santa is looking at for his replacement–Joe, a children's TV host–has a terrible agent that is making the transition more difficult. While this is going on, Harmony has stolen Santa's magical sack and tries to take off with it. She has a change of heart and, on Christmas Eve, races back to Ernest, who has discovered some of Santa's elves and reindeer. To help save Christmas, Ernest acts as Santa and flies the sleigh, while Joe transforms into the real Santa. 
Ernest Saves Christmas is one of my personal holiday favorites that I've watched every year since it came out in 1988–a year that turns out to be pretty good when it comes to Christmas movies. Ernest Saves Christmas wasn't exactly a critical smash, but so many of our favorites–especially Christmas favorites–rarely are. It was still a big money maker though and opened at number 2 at the box office when it was released on November 11th, 1988. It would end up being the highest-grossing of all the Ernest movies. Ernest Saves Christmas is Jim Varney at his best and the warmth, absurdity, humor, and compassion of Ernest P. Worrell make for a perfect Christmas movie. 
2. A Christmas Story
My penultimate choice is the movie that many cite as their all-time favorite Christmas movie, and that is the beloved A Christmas Story. Not only is this many people's all-time favorite 1980s Christmas movie, but their favorite 80s movie, period.
A Christmas Story goes all the way back to 1983 and stars Peter Billingsley, who has gone on to be a big-time producer behind such movies as the original Iron Man, SpiderMan Far From Home, and Four Christmases. He also appeared as the quality control elf in 2003's Elf.
In A Christmas Story, he plays Ralphie Parker, a young kid who wants a certain present more than life itself: A red-Ryder Range 200 BB gun. His mother is not on board, certain that he will shoot his eye out. He dreams about what life will be like with this BB gun and how he can stop criminals and bad guys and be a hero.
Christmas morning comes and Ralphie is disappointed not to find the gun. But he's directed to one last box–and it contains the Red Ryder. He rushes outside to test it out, only to have his shot ricochet back, knocking off his glasses–which he then steps on and breaks. He lies to his mother and said an icicle caused the injury but goes to bed that night with the gun by his side as we hear adult Ralphie say how it was the best present he ever got. 
Where do we even start with this movie? It's unique in that it's a 1980s movie, but set in the 1940s. No one knows the exact year it's set in, but it's thought to possibly be set in 1941. When it came out in 1983, it created nostalgia for the time period it was set in, and today creates nostalgia for when we first got to see it and how we grew up with it. And it may be hard to wrap your head around that the time span difference between the 1940s when it was set, and 1983 when the movie was released is the same as today and 1983. That always hurts my head. 
A Christmas Story was partly based on a 1966 book called "In God We Trust: All others pay cash" by Jean Shepard. part of this movie was filmed in Cleveland, but part was actually filmed here in Canada around Toronto and St. Catharines, Ontario. It even won two Canadian Genie awards, which recognize the best of Canadian Cinema. 
There are a million fun facts behind this classic. Here are a few of my favorites:
There was a deleted fantasy sequence scene where Ralphie teams up with Flash Gordon
Jack Nicholson almost played ralphies dad but they just couldn't afford him
This is the movie that had a big inspiration for the TV show The Wonder Years. Peter Billingsley even appears in the last two episodes
8,000 kids auditioned for the role of Ralphie
And interestingly, as of the time of this recording, a sequel to a Christmas story has been very quietly released on HBO Max. It's called A Christmas Story Christmas and features Billingsley reprising his role as a grownup Ralphie. 
The low-budget fluke of a movie has gone on to become an absolute Christmas classic in every sense of the word.
1. National Lampoon's Christmas Vacation
We've reached number one and probably no surprises here. Is it even the Holidays without National Lampoon's Christmas Vacation? The movie that was able to combine gross-out humor, slapstick comedy, bawdiness, and genuine heart is an absolute staple of holiday viewing. I have seen this movie more times than I can possibly count, and it never ceases to make me laugh–even though I know every second of the movie.
Christmas Vacation is the story of Clark Griswold, who wants to create a good old-fashioned family Christmas for his wife Ellen, and two kids: Russ and Audrey. But then the in-laws show up, and then some more extended family, turning what was supposed to be a nice, quiet family Christmas into a four-alarm holiday emergency. 
Christmas vacation was directed by the great John Hughes and is based on a short story by Hughes called "Christmas '59." which was published in National Lampoon magazine. You'll notice that when Clark is trapped in the attic and watching the old home movies, he's watching the one called "Christmas 59."
The movie was initially directed by Chris Columbus but had so many run-ins with star Chevy Chase that he stepped away. But Hughes really liked Columbus and thought he may be good for another holiday film he had in mind involving a young kid left by himself during the holidays. That movie was, of course, Home Alone. Columbus also directed another movie on this list: Gremlins.
Christmas Vacation came out on November 30th, 1989 and the release of it was interesting as there was only one other Christmas movie released that year that we started this list with: Prancer. Both movies star Johnny Galecki, who you may know as Leonard on the Big Bang Theory. He played Billy in Prancer and Russ in Christmas Vacation. 
The big problem going into the holiday season of 1989 was the incredible hype for the release of Back to the Future 2. Christmas Vacation came out on December 1st, just one week after Back to the Future 2. No one wanted to go up against this juggernaut sequel but it might have actually helped out Christmas Vacation.
It opened at number 2 behind back to the future, but by the third week of release, it had reached number one. It was now only a week before Christmas and moviegoers, looking for some holiday fare, really only had Christmas Vacation as an option. It seemed like everyone had already seen Back to the Future 2, and word-of-mouth was spreading about this new National lampoon Christmas movie. It stayed at number one the following week and made over $70 million by the end of its run, or $170 million when adjusted for inflation. 
Here are some interesting behind-the-scenes moments of the movie.
Chevy Chase actually broke his hand when he was punching the lawn ornaments and has to start karate chopping the reindeer to protect his hand.
Cousin Eddie is supposedly based on a real-life person
An earthquake actually hits at the moment Aunt Bethany and Uncle Lewis walk into the Griswold House, and if you look closely, you can see the cameras shake
Speaking of Aunt Bethany, she was played by the legendary Mae Questel, who was the voice of Betty Boop. 
And then there is the lost version of Christmas vacation. There were several scenes included in the movie that you may or may not have seen depending on if you saw it in theatres, and where you saw it. One of the first scenes involves The Griswolds at the Christmas tree farm.
There's a guy in a Santa suit sitting in a beach chair. And if you've seen the movie, you know Clark is prepared to chop down a tree but forgets his saw. How did he get it out? We find out later that Clark dug it out of the ground himself. In this lost scene, when Clark realizes he forgot his saw, he goes back to the lot only to see the guy in the Santa suit sitting in front of a sign that includes the warning "buyer brings own damn saw."
You may remember this part from early VHS versions and TV cuts of the movie along with the movie trailers and images from the promotional material. There are also more shopping scenes that seem to have disappeared over time that were in the theatrical release. You may also remember Clark finding more presents in the attic, depending on when and how you first saw Christmas vacation.
There are more great scenes with Aunt Bethany and Uncle Lewis that have also been lost to time, but some which were included in the original trailer. The original script also had the squirrel attacking aunt Bethany and a longer dinner scene where Eddie puts an unopened can of cranberry sauce in the turkey thinking that's how they're supposed to be stuffed. 
And then there was the original ending. This was written and apparently fully shot and the movie was going to finish with a post-credit scene. Post-credit scenes are of course common today, but not really a thing in the 80s. Here's how it was going to finish after the credits rolled with the actual dialogue from the script that can still be found on dailyscript.com
Interior: Todd and Margot's bedroom, they're in bed
Todd: "It's over, honey. Griswold had his Christmas. Nothing else can happen. It's peaceful. All is Calm."
Margot: "Will you just hold me?"
Todd: "of course."
Todd: "let's go to sleep and let visions of sugarplums dance in our heads."
Margot: "I'm so tense"
Todd: "sweetheart, if we don't go to sleep, Santa Claus won't come."
Margot: "you're so cute."
A long beat and the Santa, the reindeer, and all the lights launched from the gas explosion crash through the ceiling into the bedroom. Fade out. 
Hopefully, one day, we'll get a full release with all these lost scenes. 
And last but not least: there is actually a sequel to Christmas vacation. It's called National Lampoon's Christmas Vacation 2: Cousin Eddie's Island Adventure. This was a made-for-TV movie, and the less said about it, the better.
But the original Christmas Vacation remains the gift that keeps on giving the whole year.